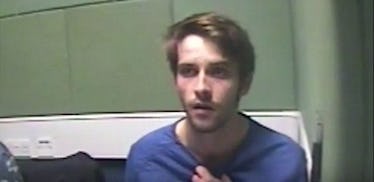 Man Who Beat GF To Death For Tinder Message Details Her Murder In Eerie Video
Daily Mail
A video has been released of a young man confessing the story of how he brutally beat his girlfriend to death.
Jordan Matthews, 24, physically and verbally abused his girlfriend, Xixi Bi, for several months before a heated argument between the couple turned fatal.
Matthews wrongly believed Bi, a 24-year-old Chinese student who had a "bright future," was cheating on him, and in his angry, paranoid state, he savagely beat her until she died.
The police interview shows a stone-faced Matthews as he details the chilling assault that took place in August of last year.
The confrontation began when he asked Bi what she was doing, where she had been that day and who she had been with. She allegedly refused to give him an answer.
He said,
I grabbed her by the front of the T-shirt with two hands and picked her up off the sofa, then I dragged her with one hand around the sofa and threw her into the bedroom.
Matthews continued,
Then I picked her up from there and threw her into a cabinet. I picked her up from there and I punched her in the stomach. She said something, I can't put my finger on it.
From there, he said he "lost it" and repeatedly punched her in the stomach.
The assault reportedly began at 1:30 am at the couple's apartment in South Wales.
Bi did not collapse from her 41 injuries, which included massive bruising, multiple fractures and a broken jaw and ribs, until 8:30 am. That was when Matthews finally called the authorities.
When doctors examined Bi's body, they discovered nine previous rib fractures as well as a healing jaw fracture, all of which were inflicted by her abusive boyfriend.
The young man has since pleaded guilty to manslaughter, though he denied having committed murder. He will be serving a minimum sentence of 18 years in jail.
During the sentencing at Cardiff Crown Court, Justice Nicola Davies referred to the assault as the "tragic culmination" of physical and verbal abuse over a number of months.
According to Metro, Davies said Bi was unable to speak of what had happened to her while she was in the hospital before she passed away from her many injuries.
Davies said,
Nothing better demonstrates the fear that you engendered in this educated and intelligent young woman than her inability to tell of your abusive conduct.
The couple met one another back in 2015, when Matthews was unemployed, while Bi happens to be the daughter of wealthy parents in China.
In a victim impact statement read aloud in court, Bi's brother, Zexun, said his sister was due to run their family's company one day.
He said,
She was intelligent and had the whole world in front of her. All this taken from her, due to Jordan Matthews and his selfish and violent attack on my sister. The heart has been ripped out of our family.
Matthews is scheduled to serve a minimum of 18 years behind bars before he is considered for parole.
Citations: 'I just lost it': Chilling confession of violent jealous boyfriend who battered his millionaire Chinese heiress partner to death with his bare fists (MailOnline), Chilling video shows moment man describes how he killed his girlfriend (Metro)