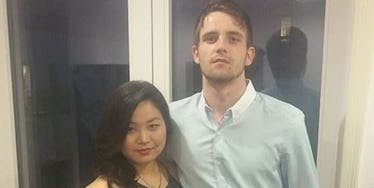 'Gutless' BF Beats GF To Death After She Receives Texts From Another Guy
Facebook
A man has been found guilty of murder after beating his girlfriend so badly she died — all because she received a text from another guy.
The jury at Cardiff Crown Court in Wales rejected Jordan Matthews' guilty plea of manslaughter, instead deciding he was guilty of murdering girlfriend Xixi Bi.
Bi, a 24-year-old Chinese student who was described as having a "bright future," was killed by Matthews, 23, in an attack last August.
When paramedics arrived at the scene, her body was so badly beaten, a medic thought she was already dead. She died in the hospital the next day.
Matthews, a chef who claimed to be a black belt in karate, told police he became violent when he saw a message on his girlfriend's phone he believed was from a dating app.
In a statement issued by South Wales Police, Xixi's family said she was an "intelligent and energetic person who had a very bright future and her whole life in front of her," adding,
All this was taken away from her, and us, by the selfish, mindless and gutless actions of Jordan Matthews, who brutally killed her for no other reason than jealousy.
The jury heard the couple met on Plenty Of Fish in April 2015 and moved in together soon after.
But Xixi, a post-graduate student at Cardiff Metropolitan University, began missing lectures because of his "controlling and coercive" behavior, and her weight plummeted .
It later emerged Matthews texted her calling her a "worthless piece of shit" while her brother noticed she was wearing heavy makeup with what looked like bruises underneath.
A month before she died, she had surgery on a broken jaw that she said happened when she fell down the stairs at home — despite the couple living in a ground-floor apartment.
On the night of the attack, Matthews picked up Bi, who had returned to Cardiff after spending the day in London.
Later, they were heard arguing by a neighbor, and Matthews attacked her, causing heavy bruising and multiple fractures.
When he called emergency services, he called the call handler "darling" before confessing he had been "really, really horrible" to his girlfriend.
She had a heart attack the next morning as a result of the injuries she suffered and died in hospital.
Matthews faces jail when he is sentenced on Monday, February 20.
Citations: Jealous blackbelt chef, 23, is found guilty of killing his wealthy Chinese girlfriend, 24, as they 'bickered' over a phone message from another man (MailOnline)