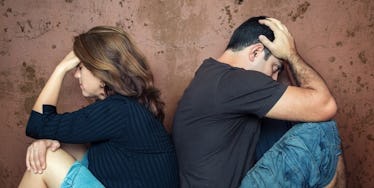 Having A Low Level Of This Hormone Could Be The Reason A Woman Gets Divorced
Getty Images
The presence of a natural hormone may be a reliable indicator as to whether a woman will stay married after giving birth.
According to Medical Daily, researchers at McGill University in Canada found a connection between women's levels of oxytocin, known as the "love hormone," and divorce rate.
Oxytocin enters a mother's bloodstream after giving birth, as well as during breastfeeding, and contributes to the bonding between the mother and child.
The hormone is also associated with sexual pleasure and possibly the bond between spouses.
For a study, 341 pregnant women provided saliva samples to researchers during their first trimesters of pregnancy. Saliva samples were, additionally, taken during their third trimesters and seven to nine weeks after the babies were born.
Two and a half years later, researchers got in touch with 188 of the women to find out whether they were still married.
About 90 percent of the women stayed married to the same people, but seven women were separated from their original partners.
According to the study, participants who had lower amounts of oxytocin during their first trimesters and the first weeks after giving birth showed higher likelihoods of getting divorced.
The results revealed the chances of a woman staying with her spouse in the first few years after giving birth increased by approximately seven times for every unit increase in oxytocin during her first trimester.
These chances increased by roughly nine times for each unit increase in oxytocin after giving birth.
It appears a woman's oxytocin levels during and shortly after pregnancy directly impact chemistry with her spouse.
Psychologist and study co-author Jennifer Bartz reportedly said,
What these data suggest is that lower maternal oxytocin levels associated with the risk of relationship dissolution by the time the child is a toddler.
Should a woman's oxytocin levels decrease after giving birth, her bond with her spouse may very well do the same.
The research team will eventually conduct more studies in search of a connection between marriage quality and the odds of spouses staying together.
This study was first presented at the Society for Personality and Social Psychology annual meeting in San Diego.
Citations: Divorce Rate Linked To Oxytocin Levels How The Love Hormone Influences Marriage Success (Medical Daily)