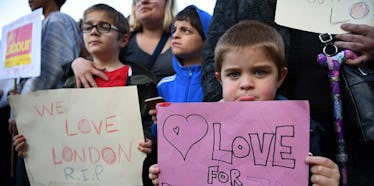 French And Canadian Citizens Among The 7 Who Died In London Terror Attacks
Jeff J Mitchell / Staff / Getty Images
In the wake of last night's terror attacks in London, seven people have lost their lives, 48 were injured, and 21 out of the 36 who have been hospitalized remain in critical condition.
As of Monday, June 5, several of those who lost their lives have been identified. Chrissy Archibald, 30, of Canada died in her fiancé's arms, according to CNN, after being struck on London Bridge. Londoner James McMullan, 32, was last seen outside of a pub and is believed to be one of the deceased. A French citizen has also died, but person's identification hasn't been revealed. CNN also reports that people who are still missing — Sebastien Belanger and Ignacio Echeverria.
Among the injured were police officers, reporters, Spain, Australia, and New Zealand citizens, according to the New York Daily News. 
As new information continues to develop, many are being treated for their injuries — like Geoff Ho, a business editor with the Sunday Express and a martial arts expert who stepped in to break up what he thought was a fight when he was stabbed in the throat, according to The Mirror. He is in the ICU and unable to speak.
One victim, who also had issues speaking because of her injuries, made sure everyone knew she was OK with a feisty yet emotional Facebook post. Australian Candice Hedge was working at one of the Borough Market restaurants when she was stabbed. "I'm doing OK. Still in hospital, but all in the clear. I really can't talk," Hedge wrote on Facebook, according to the Sydney Morning Herald, "The f----r stabbed me in the neck. Don't worry too much. I love you all."
Police arrested 12 people on Sunday who they believe are connected to the attacks.
After three assailants drove a van into pedestrians on London Bridge, they launched a stabbing spree at nearby restaurants and pubs in Borough Market. Police responded to the first emergency call around 10 p.m. and headed toward the bridge, where they killed the three assailants within roughly eight minutes, the Metropolitan Police Commissioner Cressida Dick said.
This morning while addressing the media, Prime Minister Theresa May said the country needs to reevaluate its counterterrorism efforts, as these incidents were the third major terror attack in the country within three months. ISIS didn't claim responsibility for the incidents until later in the day on Sunday.
According to The New York Times, Prime Minister May said, "Our society should continue to function in accordance with our values. But when it comes to taking on extremism and terrorism, things need to change."
More to come.