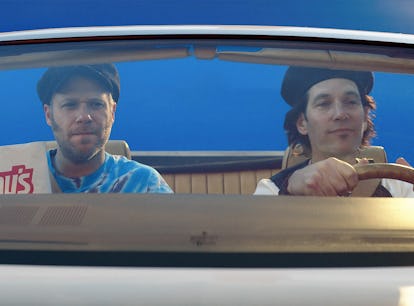 Paul Rudd And Seth Rogen Bond Over Lay's Potato Chips In This Super Bowl Ad
Who knew a chip could hold so many memories?
Courtesy of Frito-Lay
You might be surprised to hear that Lay's Potato Chips (a Super Bowl spread staple) haven't been featured in a Super Bowl commercial in 17 years, but facts are facts. The brand is making its grand return to the big game — and it revealed comedy legend Seth Rogen as the commercial's star on Jan. 20. Turns out, Rogen won't be the only famous face in the ad on game day. In a subsequent teaser, Paul Rudd joined in on the fun and hinted at a road trip. Lay's revealed its Super Bowl 2022 commercial on Feb. 2, and it finally explains that eerie teaser and what Rudd and Rogen were getting into in the old convertible. You can watch the entire spot before it airs during the Super Bowl on Feb. 13.
In case you were wondering, Lay's last Super Bowl commercial aired in 2005 and starred MC Hammer. Cut to 2022, and the brand got its ad rollout out on an odd start. Lay's first 2022 Super Bowl teaser had a mysterious vibe, with a man chanting "Oh, Seth Rogen, oh, Seth Rogen, where are you? Where are you?" in front of a detailed shrine to the actor. In the second teaser, you finally found out where Seth Rogen was — in a car with his best pal Paul Rudd — but you were still left with more questions than answers.
Lay's put everyone's minds to ease on Feb. 2, when the brand shared a 60-second version of its 2022 Super Bowl ad on its Instagram. Captioned, "Lay's brings back so many memories for Paul Rudd and Seth Rogen. Lay's. Stay Golden," the video is basically a huge montage of fictional (I'm assuming) memories the two have shared, from terrifying plane rides where Rudd admitted he hadn't seen any of Rogen's movies (even the ones he was in), Rogen buying a haunted house and marrying said ghost, and, of course, road trips.
You can watch the extended version of Lay's 2022 Super Bowl commercial below:
OK, I had plenty of questions after watching both trailers — and there were definitely a few directions the commercial could have gone — but I'm glad to see the initial cult-esque trailer turned out alright, ya know since their stalker offered them some Lay's potato chips.
Rogen and Rudd have starred together in comedies like Knocked Up and This Is 40, but Rudd confirmed in a Feb. 11 interview with Yahoo Finance that the two actors don't have any shared projects in the works. It seems he's always up for working with Rogen though, as he shared in the interview, "When this thing came around, it was kind of a no-brainer. I mean, I love potato chips and I love Seth Rogen."
You'll have to wait until 2023 to see if the pair reprises their role as a Lay's duo, but in the meantime, you can catch up on all their ~memories~ and look for the commercial when it airs Sunday Feb. 13.
This article was originally published on