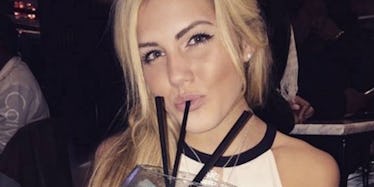 Student Posts Eerie Last Instagram Of Drunk Friend Before She's Found Dead
Facebook
A student at Miami University snapped a photo of her roommate before she died in their dorm room following a night of binge drinking with friends.
Erica Buschick, freshman at MU, consumed a deadly mixture of alcohol while partying on campus and became incoherent the night of January 19.
After she was unable to walk, Buschick's roommate, Reilley Graves, took her back to campus and brought her to their room with the help of a taxi driver, The Miami Student reports.
Upon arriving, Buschick was placed on a bean bag chair so she wouldn't hit her head. Graves then took a "drunk" photo of her laying down and posted it to Instagram before going to bed around 1 am.
Shortly after the Instagram was posted, Buschick died inside their dorm room.
The Miami University Police Department removed the photo at 2 pm the following day after Buschick was pronounced dead.
Apparently, Graves told them it was just a "post about being drunk." She said she checked on her roommate at 3 am, and that she was still on the bean bag.
However, when she woke up on January 20, she noticed Buschick hadn't moved from the bean bag and immediately called 911 for help.
It's been reported alcohol was a contributing factor in Buschick's death, but her toxicology report has not yet been released by the The Butler County Coroner's office.
Based off the incident report obtained by The Miami Student from the Miami University Police Department, Buschick consumed a dangerous amount of alcohol prior to her death.
The reports say Buschick and Graves started drinking shortly after 9 pm in their dorm room and consumed two bottles of champagne together.
Shortly after 10 pm, the girls were picked up by Buschick's friend, Matt Hearty, who took them to a party on campus.
Before they left, they filled a water bottle more than halfway with vodka.
Once they were finished with their vodka — at approximately 10:45 pm — the guys they were with brought out a Grey Goose bottle of "cheap vodka," which they began using for shots.
Once their pregame was over, the group starting walking to a bar called Brick Street, and Buschick fell down. Hearty then suggested she didn't go because she was too drunk.
At this time, Graves had already gotten to the bar and waited on an "under 21" line. She said she was calling her roommate's cell phone when Hearty picked up instead.
He insisted Buschick needed to be taken back to their dorm room, and Graves met them and called a taxi.
Jason Colwell, a Miami taxi driver, picked the students up and drove them back to their dorm room. Buschick was so intoxicated she could not walk out of the vehicle without falling, so Colwell helped Graves bring her inside.
After carrying her to the second floor and bringing her to her bed, Colwell suggested placing her on a bean bag chair to prevent her from hitting her head.
He told Graves to watch her, and then left the room before Graves snapped the last photo of her roommate laying on the bean bag chair.
Citations: MUPD RELEASES INCIDENT REPORT ON STUDENT DEATH (Miami Student)