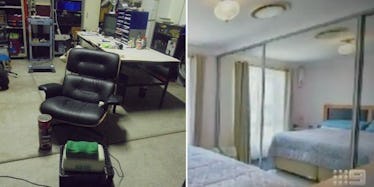 Landlord's Hidden Room Used To Film Tenants Having Sex Revealed In Creepy Pics
New South Wales Police
Secret cameras were hidden in bedrooms by a pervert multi-millionaire landlord who used the equipment to spy on his tenants having sex.
Masaaki Imaeda is serving an 18-month jail sentence after he pleaded guilty to multiple charges in November 2016.
Now, police in New South Wales, Australia, have released a number of images showing how the creepy landlord spied on tenants.
News.com.au reported Imaeda, 66, rented out rooms in the Sydney property to young Japanese people.
After recording them having sex on hidden cameras, the landlord would sit back in a large chair and watch the footage.
He was brought to justice when a married couple staying in the home found an online post warning students about Imaeda — and they then found a camera in the ceiling.
The 66-year-old man watched his tenants having sex while sitting in this recliner chair in a shed. He often sat with a foot massager at his feet.
New South Wales police in Australia also found laptops, cameras and recording equipment in the creepy shed.
A young Japanese couple were staying in this room when they found a camera hidden in the ceiling. It was facing the huge mirror that showed the entire bed.
Police also recovered a camera from inside a light fixture from a ceiling.
Cameras were also hidden in TVs, and this smoke alarm was fitted with a camera, too.
Imaeda spent hours sitting in the shed watching his tenants' most intimate moments.
During the court process, his lawyer claimed he suffered from "a number of medical issues."
In a separate case, Imaeda is due to be sentenced for renting out a shanty town in Alexandria, Australia.
The tenants all shared one portable toilet and lived in shipping containers, a bus and trailers.
It came to the attention of authorities in 2014 when it was destroyed by a fire, with residents fleeing from the scene.
Citations: Photographs reveal for the first time the secret sex lair where slumlord pervert Masaaki Imaeda spied on tenants (news.com.au)