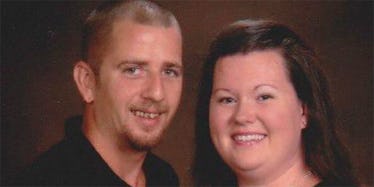 Kids Found Watching Movie In Car After Parents Drop Dead Driving On Highway
Facebook/
A car was stopped along an interstate.
Outside of it, a couple was found dead. Inside of it, their children were watching a movie. Three days later, investigators still do not know why.
According to an Associated Press report, those are the details of a bizarre case in Florida, where the bodies of parents Daniel and Heather Kelsey were found by police on New Year's Eve.
Volusia County Sheriff Mike Chitwood told The Daytona Beach News-Journal that autopsies showed no signs of foul play and no official cause of death has been determined. He also stated that Daniel tested "presumptive positive" for drugs, according to The Dayton Beach News-Journal.
The cause of death will remain unknown until the results of toxicology texts are confirmed.
The Kelseys' SUV, a maroon Ford Freestyle, was found stopped but running on an eastbound route of Interstate 4 near Daytona Beach, according to the Associated Press.
The vehicle, which was discovered by a patrolling trooper around 2 am on New Year's Eve, had hazard lights on. Inside sat the couples's three sons, the News-Journal reports.
Multiple outlets cite different ages for the boys. The AP says their names are Nicholas, 1, Aiden, 2, and Joseph, who was only described by AP as an "infant."
News 6 Orlando, on the other hand, has reported the children's ages ranging between eight months and 4-years old. All three boys are now in the care of family members, according to Florida Department of Children and Families spokesman John Harrell.
News 6 quoted Harrell saying,
The safety and health of these children is our first priority, and we will continue to help the family in any way that we can during this difficult time. The children are safe and are currently in the care of relatives. We responded quickly once we were notified about this incident, and we have been working closely with law enforcement. Additional details are confidential.
Daniel Kelsey was 32 years old and his wife, Heather, was 30.
Citations: Parents found dead near car with 3 children inside ID'd, deputies say (News 6), Report: 3 Kids Watched Movie as Parents Lay Dead Outside SUV (Associated Press), Children whose parents found dead on I-4 were watching movie in running car HIDE CAPTION A photo of Heather and Daniel Kelsey taken from Heather Kelsey's Facebook page. (Dayton Beach News-Journal)