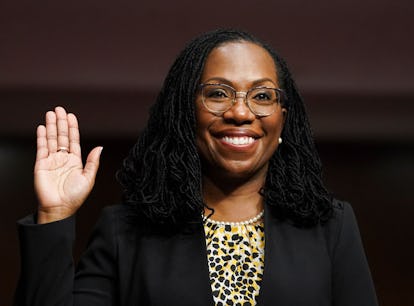 Ketanji Brown Jackson, The First Black Woman Nominated To SCOTUS, Is So Impressive
This resume is extensive.
KEVIN LAMARQUE/AFP/Getty Images
It's official: On Friday, Feb. 25, President Joe Biden nominated Judge Ketanji Brown Jackson to the Supreme Court. If confirmed, she'll be the first Black woman to have a seat in the court's 232-year history. It would also mark the first time two Black justices would serve alongside each other.
If confirmed, Jackson will replace justice Stephen Breyer, who revealed on Jan. 26 he's planning on retiring in June after serving on the court for 27 years. A day after his announcement, Biden tweeted, "The person I nominate to replace Justice Breyer will be someone with extraordinary qualifications. Character, experience, and integrity. And they will be the first Black woman nominated to the United States Supreme Court."
Biden first made the promise to nominate a Black woman to the Supreme Court while speaking at a Democratic debate during his 2020 presidential campaign. Now, two years later, Breyer's retirement has finally given Biden the opportunity to make good on his promise.
The day Biden announced his nomination, the White House released a statement revealing the president chose Jackson because she's "wise, pragmatic, and has a deep understanding of the Constitution as an enduring charter of liberty." The White House added, "The president sought an individual who is committed to equal justice under the law and who understands the profound impact that the supreme court's decisions have on the lives of the American people."
Here's what you should know about Jackson's background and education that led her to her historic Supreme Court nomination.
Jackson has already made history with her Supreme Court nomination, and she could do it once more if she's officially appointed on the bench. Still, her confirmation process is sure to be a fight. Senate leaders hope to hold a vote on her confirmation in mid-April, per CNN.