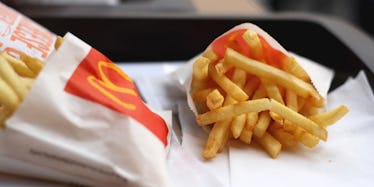 If You Live In This Place, You'll Now Have To Pay A 'Fat Tax' For Junk Food
Shutterstock
Ah, junk food. It's the definition of a guilty pleasure, and it's justified because of how cheap it is.
But what if that wasn't the case?
Childhood obesity is such a problem in the South Indian state of Kerala, they've actually slapped a "fat tax" on fast food chains like McDonald's, Domino's and KFC.
Those Happy Meals aren't going to feel so happy when customers have to pay an extra 14.5 percent on top of the normal price.
It's a win-win for the government, which could rake in as much as $1.4 million, while hopefully tackling obesity.
This isn't such an unusual move, though. The country's eastern state of Bihar whacked a 13.5 percent tax on all those amazing eats we can't get enough of, like candy, samosas and peanuts.
The same concept is being floated in different countries around the world. The UK already has a sugar tax, and they're thinking of imposing a junk food tax as well (once they've managed to dig themselves out of the shitshow that is Brexit).