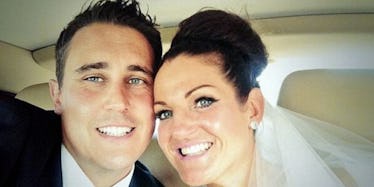 Married Teacher Caught Having Sex With Virgin Teen On Parents' Living Room Floor
Facebook
A teacher has been banned from the classroom for 10 years after a court heard allegations of his having sex with underage girls who attended his school.
The 35-year-old was allegedly sexually involved with three women who told the court about their scarring experiences with their once-teacher, MailOnline reports.
At the time, the female students were infatuated by Norbury and didn't realize the severity of the situation at hand.
The primary school teacher — who was also a church deacon at the time — is accused of sending flirty text messages to a select few underage students and luring them to have sexual intercourse with him.
One of his first victims, labeled as "Girl A" in court, lost her virginity to Norbury on the floor of his parents' house.
The court heard Norbury began picking her up in his car in 2005 and touched her sexual until he took her virginity.
After the duo had intercourse for the first time, they continued to meet up in hotels to further their sexual endeavors.
Norbury continued his underage sexcapades with another girl, labeled "Girl B," who he sent seductive texts to on the reg.
The woman told the court she received messages that said "you look hot" from the teacher when she was 15 years old.
She admitted to being "chuffed" upon receiving them at such a young age because he was "older and good looking."
Girl B said she would visit the teacher in his classroom dressed in her school uniform. There, he would bring her into a store cupboard and kiss her as she showed him her underwear.
The final woman who came forth in court about her sexual past with, called "Girl C," said the father-of-three took her to a park when she was 16 years old and gave her a flask of Malibu.
She said the Malibu made her feel "dizzy," and that Norbury undressed her and persuaded her to grope him sexually before making her walk home alone in the morning.
Regardless of the women who have come forth to publicize their assault, Norbury denied assaulting anyone under the age of 16 was cleared of his criminal charges in 2015.
However, a disciplinary panel recently found him guilty for 17 of 20 allegations against him, and the Education Workforce Council gave him a 10-year prohibition order that will prevent him from teaching for at least 10 years.
Steve Powell, a chair in the panel, commented on the case and said,
Although now in a stable relationship his lack of insight means the committee cannot be satisfied there will be no repetition of this type of behaviour in future.
Norbury is currently married to a woman he began dating after he stopped seeing Girl B when she turned 17.
According to David Harris, a supporter of Norbury in court, the teacher is now a "changed man."
Citations: Deputy head Jonathan Norbury banned for sex with teens (BBC)