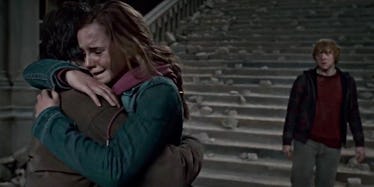 JK Rowling Just Announced Hugely Important News For 'Harry Potter' Fans
Warner Bros. Pictures
To fans of Harry Potter everywhere, I'm sorry to be the bearer of bad news.
According to Reuters, the cultural phenom is officially coming to an end. After the London premiere on Saturday of "Harry Potter and the Cursed Child," JK Rowling's new stage play and the unofficial eighth installment in the magical series, the author told Reuters she was done with the character once and for all.
She told Reuters "no," the journey in the play is not a beginning for new stories about the boy who lived.
She explained,
[Harry] goes on a very big journey during these two plays and then, yeah, I think we're done. This is the next generation, you know. So, I'm thrilled to see it realized so beautifully but, no, Harry is done now.
Sorry, Potterheads, you're going to have to get your fix elsewhere from now on.
If it's any consolation, both JK Rowling and fans are absolutely loving "Harry Potter and the Cursed Child," which also came out in book form today.
One fan told Reuters, "It was magical. I sat on the edge of my seat the whole time. There was a lot to live up to and they did it," and another said, "It's blown away every theatrical boundary I've ever known."
Even though JK Rowling said she's done with Harry, it appears she had a great time bringing her ideas to the stage, telling Reuters,
(It) chimed perfectly with the material I had about the next generation and I could see it would work perfectly. So, I never wanted to write another novel, but this will give the fans something special.
So maybe, just maybe, she'll have more ideas for a different character in the "Harry Potter" universe, or a different medium or platform in the future and then maybe she'll re-open the door to the universe once again.
I mean, she has a trilogy of movies coming out, beginning with "Fantastic Beasts and Where to Find Them," for which she wrote the screenplay based off of her "Harry Potter" spin-off book of the same name. That movie comes out in November.  Not only that, but The Wizarding World of Harry Potter theme park opened in Orlando in 2010, and a second park opened in April in Los Angeles.
So, nine years after the publication of "Harry Potter and the Deathly Hallows" and five years after the last "Harry Potter" movie came out, Jo clearly is as creative and productive as ever.
Hopefully, she'll go back on her word and continue to tell stories about Harry or at least continue to create in the Potterverse. And if this play and the spin-off movies are truly the last we'll all see from Harry, Ron and Hermione, at least we'll always have JK Rowling on Twitter.
I got my fingers crossed for you that Harry's not gone for good, Potterheads.
Oh, and happy birthday, Jo. Thanks for the terrible news.
Citations: J.K. Rowling bids farewell to Harry Potter at "Cursed Child" gala (Reuters), You're Not Gonna Love J.K. Rowling's Latest Harry Potter News (Cosmopolitan)