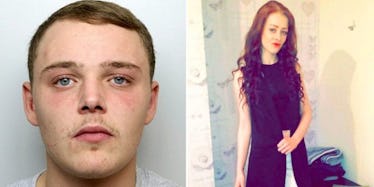 Jealous Man Beats GF To Death After Thinking She Cheated And Newborn Wasn't His
West Yorkshire Police/Facebook
After Morgan Banks was told he'd live with the memories of killing Sophie Smith forever, the 18-year-old was jailed for life for the brutal murder of his girlfriend in October 2016.
Doctors said Smith, 17, suffered injuries similar to that of victims who experience a high-speed car crash or a fall from an extreme height.
She suffered 11 broken ribs, a broken eye socket, broken nose and bruises all over her body during the four-hour ordeal in West Yorkshire, England.
Smith, who gave birth to a boy just six weeks before Banks attacked her, went into a coma before she died.
Leeds Crown Court heard Banks wrongly suspected Smith was having an affair with his brother and cousin because he believed their baby didn't look like him.
He beat a false confession out of his desperate girlfriend while demanding the names of men he was adamant she was sleeping with.
Prosecutor Michelle Colborne QC said Smith called emergency services at 12:29 am on the night of the attack, saying "help me" before hanging up.
Police called her back, but she said nothing was wrong.
Four hours later, a member of the public saw Banks in the street, bare chested and covered in blood.
Colborne said,
Police and paramedics found Sophie Smith lying on the floor of the bedroom. She was laid beside the bed with her head closest to the door and was naked apart from a bra round her waist and a duvet covering her lower half.
In an interview with police, Banks admitted kicking her in the head and ribs and head-butting her.
He pleaded guilty to murder, causing actual bodily harm and failure to surrender.
Jailing him for life with a minimum of 17 years, Peter Collier QC, the Recorder of Leeds, said,
I have no doubt you will live with the memories of what you did to her for the rest of your life. Quite clearly, this is a case where mental and physical suffering was inflicted on Sophie before she died. It was a savage and dreadful attack. This case is a real tragedy of human relationships.
The couple had been together for about four years.
Banks first appeared in court at 11 and has since amassed 30 convictions for 49 offenses.
Citations: Teenager, 18, is jailed for life for murdering his 17-year-old girlfriend six weeks after she gave birth because he wrongly thought she'd cheated on him (MailOnline)