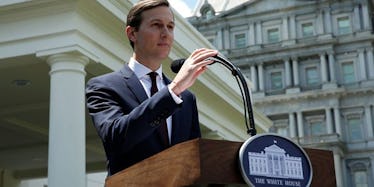 Jared Kushner's Family Owes A Ton Of Money And It Could Become A Problem Soon
YURI GRIPAS/AFP/Getty Images
The real estate company owned by Jared Kushner's family owes hundreds of millions in debt for one significant property, according to a new report. That same report also claims the debt has "complicated" the family's financial future. The news comes from Bloomberg, which interviewed two dozen people for a deep dive into the Kushner family's alleged debt and their efforts to pay it off. Kushner Companies declined to comment to Bloomberg.
The most notable debt discussed by Bloomberg stems from the 2006 purchase of a Manhattan skyscraper at 666 Fifth Avenue for a then-record $1.8 billion by Kushner Companies, the family's real estate business.
The 40-story building was reportedly purchased almost entirely with borrowed money -- save for $50 million -- and the company has not paid any of the $1.2 billion mortgage it owes. The full amount is due in February 2019, however, which prompted the Kushner Companies to search across the world for investors to help pay the mortgage, Bloomberg reports.
The deal appears to be problematic for Kushner for multiple reasons.
On one hand, there's the obvious fact that his family's business has not yet found an investor to aid in taking care of the financial burden -- which was exacerbated by the national recession that followed the 2006 purchase and resulted in years of operating income from the building being lower than the debt owed for the building, as the graphic below shows.
Then there's the scrutiny that the debt has attracted from federal investigators. Bloomberg's report claims that Kushner Companies had more success in arranging meetings with potential investors after Donald Trump became the Republican nominee for president, with Kushner by his side as an advisor.
Furthermore, special counsel Robert Mueller, the former FBI director who is at the head of the Russia-Trump campaign investigation, has already begun investigating Kushner's finances, the Washington Post reported back in June.
The Post also specifically mentioned that previously undisclosed meetings that took place as Kushner Companies was looking to secure financing for its billion-dollar property could raise questions.
And while the Kushner family's portfolio includes lots of properties (Kushner owes much of his net worth to real estate) it's clear which one could become most problematic for him: 666 Fifth Avenue.