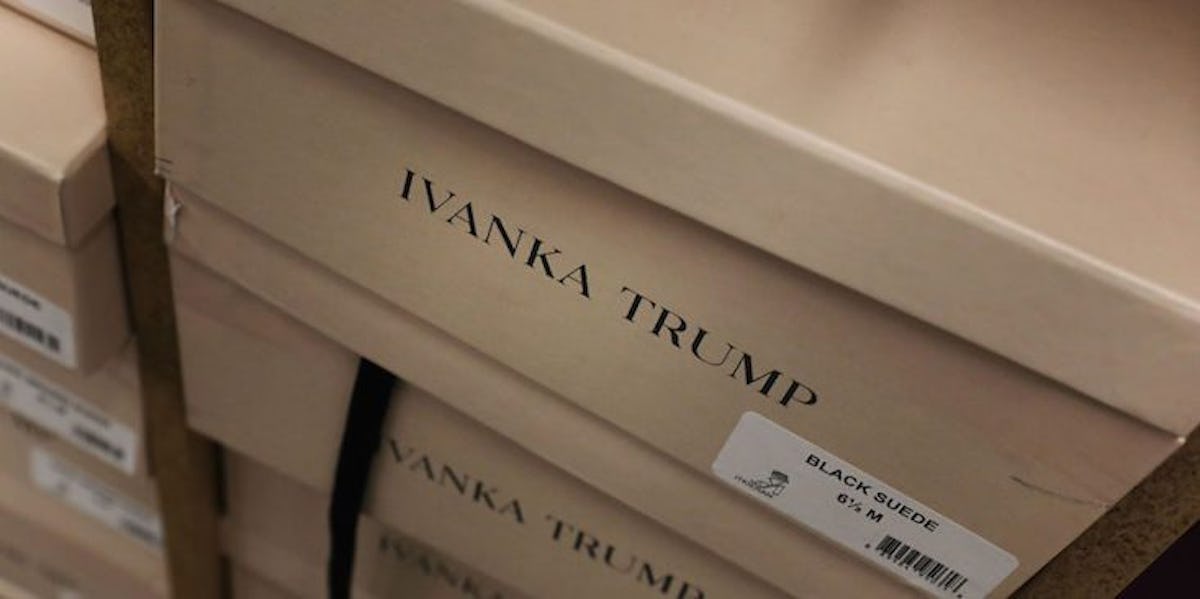 Ivanka Trump's Clothing Sales Haven't Been Doing So Hot Lately
Spencer Platt / Getty Images
There are a lot of people out there who don't want to buy what Ivanka Trump is selling. The first daughter's clothing brand has been on a bumpy ride ever since Donald Trump started campaigning for president -- fending off boycotts, accusations of unfair labor practices, and conflict of interest issues. Now, it looks like Ivanka Trump clothing sales have taken a hit – proving, once and for all, that cozy associations with Donald Trump can be very bad for business.
According to Racked, Trump's brand peaked in February 2017, with sales increasing by a staggering 771 percent, in comparison to February 2016. During that same month, the clothing line gained a heaping of attention for some behavior on behalf of the Trump administration deemed unethical by many. After Nordstrom announced that it would no longer be carrying Trump's line due to its "performance," Donald Trump and Kellyanne Conway decided to take matters into their own hands.
The president took to Twitter and publicly admonished Nordstrom.
Now, if the above that doesn't strike you as inappropriate enough, Conway, aka a government employee, opted to straight up promote Ivanka's brand on national television. She told Fox & Friends,
Go buy Ivanka's stuff ... I'm going to go get some myself today. I'm going to give a free commercial here: Go buy it today, everybody.
The brand did not keep up those peak sales. The following month, the brand's growth dropped to 288 percent, then 114 percent in May, and 6 percent in July. As of August, the volume of growth had shot down to a negative one percent, in comparison to last August.
While I obviously cannot say for sure that this decline has anything to do with our president, all signs point to probably yes.
Weirdly enough, the beginning of Trump's brand's troubles can be tracked down to a powdery pink dress. Last July, when Trump introduced her father at the Republican National Convention, she was wearing a garment from her own line. Twelve hours after her appearance, Trump tweeted out a link to the $138 ensemble – which promptly sold out within a day, according to CBS News.
OK, so that's pretty sketchy. But then things got weirder and way, way less ethical, many people posited, after Donald Trump won the presidency and his daughter was named as a key member of his transitional team. The two appeared on 60 Minutes together, and Ivanka could be seen wearing a $10,800 gold and diamond bracelet from her line. Shortly after that appearance, fashion writers received an email from Trump's brand hawking the bracelet.
Backlash was swift, and Abigail Klem, president of the company, tried to quickly backtrack. In a statement to NBC News she said,
[The email] was sent by a well-intentioned marketing employee at one of our companies who was following customary protocol, and who, like many of us, is still making adjustments post-election. We are proactively discussing new policies and procedures with all of our partners going forward.
The trouble didn't end there, though. A grassroots movement called #GrabYourWallet sprang up on Twitter in November 2016, on a mission to boycott stores that carried Trump's brand. The movement quickly took off, with women calling out outlets on social media, saying that they would be #grabbingtheirwallet, until the stores got rid of all Trump apparel. Major stores like Nordstrom, Kmart and Neiman Marcus announced that they would no longer be carrying Trump's line – though none of them directly attributed their decision to the boycott.
As the battle continues, and Ivanka Trump clothing sales (I'd guess) continue to fall, what can we expect from the peanut gallery over at 1600 Pennsylvania Ave? More likely than not, it'll be a tweet from Trump himself, blaming the MSM and liberals for not a appreciating a good high heel when they see one.