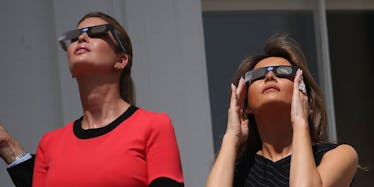 Ivanka Trump Watched The Solar Eclipse With NASA And Twitter Is Pissed
Mark Wilson/Getty Images
Aug. 21 marked the day that we finally, finally got to slap on our makeshift eyewear, whip out our iPhones and watch a solar eclipse after much hype and excitement. On an equally important note, it was also the day that we all lol-ed because President Donald Trump stared directly into the sun and NASA prompted a flurry of angry tweets about Ivanka Trump's solar eclipse photo.
It all started out innocently enough. NASA tweeted out a picture of Trump watching the eclipse from the Air and Space Museum in Washington, D.C. followed by a simple "check it out!" The first daughter herself posted several pictures throughout the day of herself at the museum, and later out on the White House balcony, looking up at the sky with her father and First Lady Melania Trump.
It turns out, though, that the esteemed space administration might have read their Twitter following wrong, because a lot of users who responded were very irked that the first daughter and NASA had shown up together in their feed – and they had a lot to say about it.
A lot of the criticism stemmed from President Trump's proposal to cut NASA's budget by about $561 million in 2018.
Though that amount only factors out to about a 3% decrease, the cuts would force the agency's education program to terminate and four climate-related satellite missions to be completely shut down.  Those missions in particular are instrumental in studying climate change, keeping a close eye on coastal waters and predicting the effects of droughts on crops.
So for many, it was kind of ironic that Trump was getting all buddy-buddy with the space agency now.
On the bright side, the day's solar theme gave ample room for users to talk environmental issues, nepotism and the idea of perhaps sending the Trump family into space on a permanent basis.
Both Trump herself and NASA tweeted out photos.
People tore into the President's proposed budget cuts for NASA.
Many also quickly took the opportunity to critique the Trump administration stance on climate change – from pulling out of the Paris agreement to the President's whole "climate change is a Chinese hoax" thing.
Others brought up nepotism.
Some also warned that, based on the current administration's track record, she might break the telescope.
And then there were the ones who took the opportunity to sharpen up their troll-ing skills against the current administration.
Whether or not NASA will take all of this backlash into account remains to be seen, but at least we now know that a significant portion of space lovers have zero plans to rock a MAGA hat anytime soon.