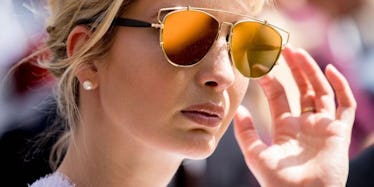 Ivanka Trump Canceled Her Book Tour To Wrap Up A Week Of Ethical Dilemmas
AP/REX/Shutterstock
It's been a hell of a week for Ivanka Trump.
As both the daughter and "special assistant" to our current president, Trump seems to find herself constantly toeing the ethical line between maintaining both her personal brand and her new role in the White House.
After facing criticism earlier this week for her new business deals that just went through in China, Trump has now canceled her scheduled tour to promote her upcoming book, "Women Who Work."
She wrote yesterday in a Facebook post,
Out of an abundance of caution and to avoid the appearance of using my official role to promote the book, I will not publicize the book through a promotional tour or media appearances.
Unfortunately, by the very nature of her post, many believe this is still kind of a version of Trump promoting her new book.
It's a little hard to backpedal away from ethical controversy when many believe Trump constantly straddles the fence on those issues.
According to The Cut, "Women Who Work" was originally scheduled to be released in March, but Trump pushed the date back to May in order to rewrite the book's introduction with November's election results in mind.
She elaborated on this in her Facebook post:
In light of government ethics rules, I want to be clear that this book is a personal project. I wrote it at a different time in my life, from the perspective of an executive and an entrepreneur, and the manuscript was completed before the election last November.
In addition to announcing the cancelation of her book tour, the 35-year-old businesswoman was also keen to notify the public about the creation of the Ivanka M. Trump Charitable Fund.
The charity will receive all proceeds from the book, as well as the unpaid half of her advance, and donate $100,000 to the Boys & Girls Clubs of America, and another $100,000 to the National Urban League.
The issue here is really quite simple, but the main point can't be reiterated enough: Trump cannot promote her personal lifestyle brand and simultaneously serve what appears to be a pretty integral role in the Oval Office.
Of all people, Richard Painter, who was the chief White House ethics lawyer under President George W. Bush., summed up the take-home message so well:
I think that's wonderful for Ivanka that her businesses are doing well, and, uh, everything would be just fine if she weren't also working in the White House.
Citations: Ivanka Trump Will Not Be Taking Women Who Work on Tour (NYMag), Ivanka Trump involved in possible conflict of interest (CBS)