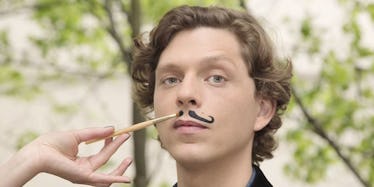 Man Writes A Letter To ISIS In Honor Of His Wife Murdered In Paris Attacks
There were 129 innocent lives taken during Friday's terror attacks in Paris, France.
Among those killed in the shooting at the Bataclan concert hall was 35-year-old Hélène Muyal-Leiris, a wife and mother.
In memory of his wife, Antoine Leiris posted a letter to Facebook on Monday morning, addressing ISIS and their failed attempt to instill hatred in those who lost friends and family members at the terrorist organization's hand.
Leiris wrote the powerful letter in French, and aptly titled it, "You Will Not Have My Hatred."
"Vous n'aurez pas ma haine" Vendredi soir vous avez volé la vie d'un être d'exception, l'amour de ma vie, la mère de... Posted by Antoine Leiris on Monday, November 16, 2015
Helene Muyal Leiris, que son âme veille sur ses 2 hommes-Hommage poignant https://t.co/EfVKVTrWyx pic.twitter.com/pxflgPTwb6 — Gaëlle Queignec (@Chimienaturels) November 17, 2015
Through pain, the man writes almost poetically, and after honoring "the love of [his] life, the mother of [his] son," he tells the terrorists, "You won't have my hatred. I don't know who you are and I don't want to know, you're dead souls."
Leiris continues,
So, no, I will not grant you the gift of my hatred. You're asking for it, but responding to hatred with anger is falling victim to the same ignorance that has made you what you are. You want me to be scared, to view my countrymen with mistrust, to sacrifice my liberty for my security. You lost.
He writes to the terrorist organization to say they have not succeeded in stripping him of his sense of security and freedom in the place he calls home; they have not succeeded in turning him suspicious of those who walk among him in Paris.
Leiris speaks further of his wife, saying he had just seen her that morning and she was "just as beautiful as when she left on Friday night, just as beautiful as when [he] fell hopelessly in love over 12 years ago."
He says,
Of course I am devastated by this pain, I give you this little victory, but the pain will be short-lived. I know that she will be with us every day and that we will find ourselves again in this paradise of free love to which you have no access.​
In referring to "us," Leiris is referring to himself and his 17-month-old son, Melvil, who he tells the terrorists will live "a happy life free of hatred."
He writes of his son,
He will eat his meals as usual, and then we are going to play as usual, and for his whole life this little boy will threaten you by being happy and free. Because no, you will not have his hatred either.​​
While there are no words to describe the pain felt throughout Paris and across the world for the devastating loss of the 129 people killed in the terror attacks, we might all stand with Leiris in agreement: The terrorists will not win our hatred.
Citations: Man Whose Wife Was Killed in Paris Attacks Writes Heartbreaking Open Letter to ISIS (Cosmopolitan)