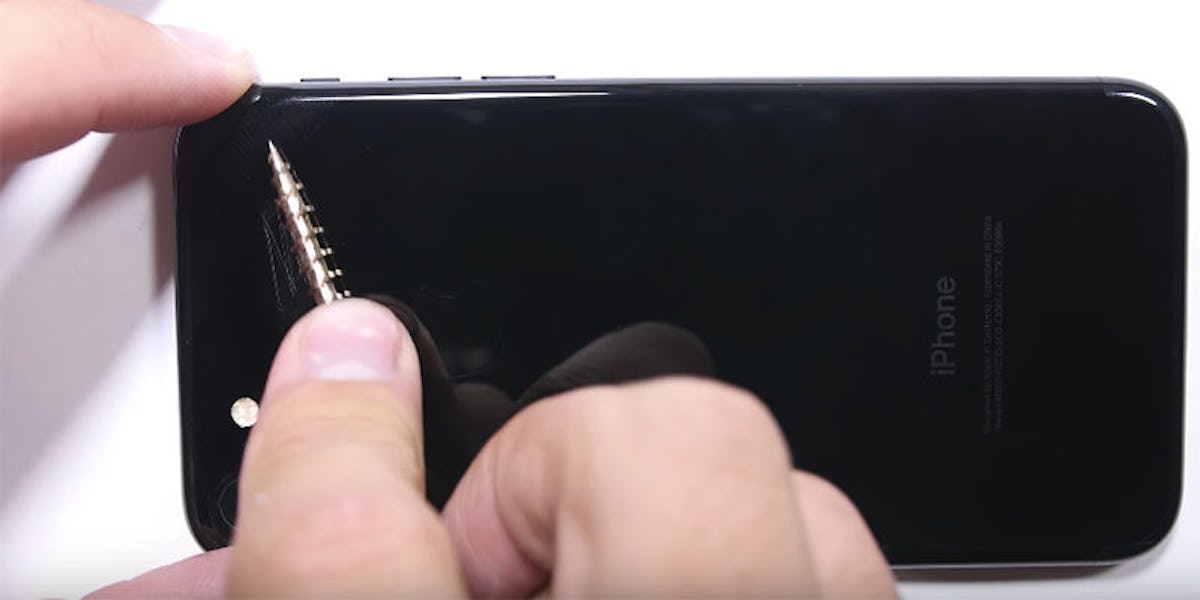 This Guy Destroyed His Brand New iPhone 7 On Video And No One Can Look Away
YouTube/JerryRigEverything
This guy got a brand new iPhone 7... only to slowly destroy it. And it's so painful, we can't look away.
The man behind the popular YouTube channel JerryRigEverything – otherwise simply known as Zack – unwrapped the jet black model of the latest iPhone in order to give it a scratch test.
In the video, he shows no mercy to the phone. He performed a cringe-worthy experiment that tested the 7's resistance to fingerprints, a toothpick, coins and keys.
Then, the host got to the difficult part of the test.
He went completely out of his way to destroy the back of the new phone. After he tested the phone by furiously scratching it with a nail -- you know, just in case you "turn your life around and get a job as a construction worker" -- Zack did something even more unbearable.
He said,
And to make it all worse, you accidentally slip your jet black iPhone 7 into a purse full of razors.
It was like listening to fingernails screeching on a chalkboard. Ugh.
But why did he do all that? Well, it wasn't just to test any iPhone. The jet black model of the iPhone 7, specifically, is the first to have been explicitly noted by Apple as a device that should be used with a case.
And, indeed, Apple does offer a fine print-like warning for the model:
Its surface is equally as hard as other anodized Apple products; however, its high shine may show fine micro-abrasions with use. If you are concerned about this, we suggest you use one of the many cases available to protect your iPhone.
So, I guess the moral of the story is this: Use a case.
Citations: Apple Says New 'Jet Black' Color May Show 'Fine Micro-Abrasions' With Use (MacRumors), Jet Black iPhone 7 - SCRATCH TEST! (JerryRigEverything), Watch This Guy Destroy an iPhone 7 In Order to Test Its Durability (Cosmopolitan)