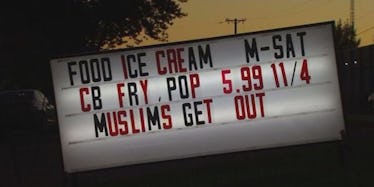 Internet Gives Restaurant's 'Muslims Get Out' Sign A Well-Deserved Makeover
Twitter
In Lonsdale, Minnesota, there is a restaurant called "Treats Family Restaurant," and everyone hates them now.
They posted a sign advertising their food and ice cream and racism.
The sign reads as follows:
FOOD ICE CREAM M-SAT CB FRY, POP 5.99 11/4 MUSLIMS GET OUT
People were, naturally, pretty angry about this. They also found it sort of funny, just because of how sudden and weird the cultural racism is.
Maybe "Muslims Get Out" is a promotion, like "Girls Night Out." pic.twitter.com/xbo0Q1TvqM — Imraan Siddiqi (@imraansiddiqi) September 20, 2016
Everyone is picking up on how weird this racist addendum is.
This sign was, presumably, a response to the stabbings in a Minnesota mall and the bombing in New York City over the weekend, which has reinvigorated an already vibrant Islamaphobic streak among many of our nation's citizens.
People turned to the internet for retribution.
There was so much negative attention around it, the owner himself, Dan Ruedinger, had to speak out, telling Fox 9,
I didn't want to put "terrorist" on the board, so we were going to put "Muslim extremist," but we didn't have room on the board.
OH, I SEE. THANKS FOR CLEARING THAT UP.
He continued,
People started taking it the wrong way and thinking we were against Muslims in general and we're not, quite the opposite. We are not racist.
Right, people took it the wrong way! I get it. It's like if you wrote, "Get out blacks," because you ran out of room for "Get out Blackjack Players." Easy mistake.
Despite this, Ruedinger told CBS he's not taking down the sign. Because, apparently, it's better to be racist than to apologize.
Here is a taste of a few of the Yelp reviews that the restaurant received:
The owner says that since he put up the sign, business is booming. Supposedly, he had to bring in three extra servers this week.
Apparently, in this country, racism pays.