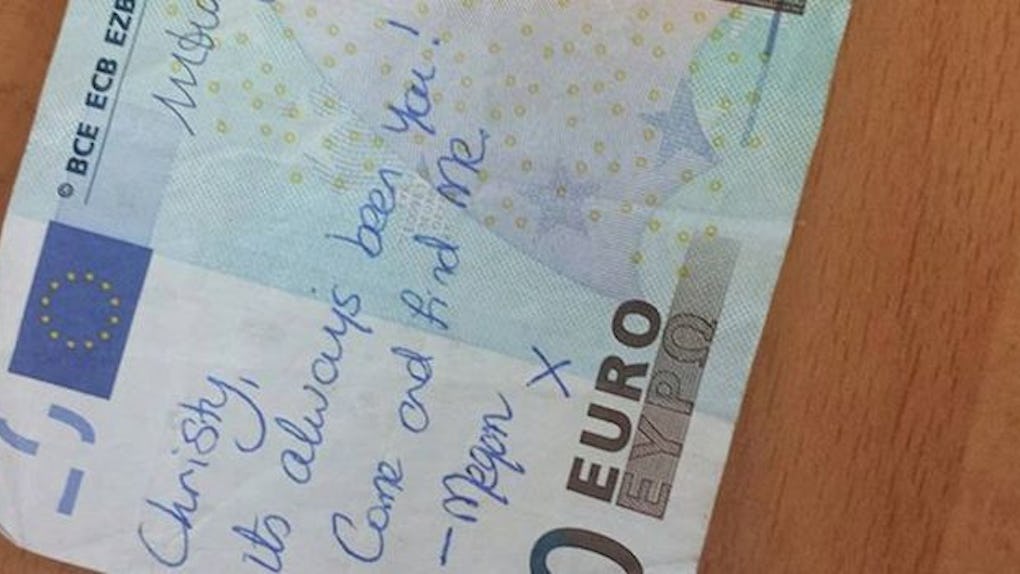 Facebook
Internet Reunites Two People After Their Love Note On A Euro Is Found
This modern-day love story has the best ending I could hope for.
Last week, an Irish woman named Denise O'Reilly found €20 in her purse. On it was a short message, seemingly from one lover to another.
It read:
Christy — It's always been you! Come and find me. -- Megan
O'Reilly shared a photo of the bill on Facebook hoping to learn more about the mysterious couple mentioned in the passage.
The post quickly took off and soon went viral, with more than 15,000 shares in less than a week's time.
Incredibly, the intended recipient of the note — a man named Christy Leech — saw O'Reilly's post and got in touch with the woman who had written it to him.
Leech told his story to Irish radio station Today Fm.
Megan was the name I used to call my ex-girlfriend. We went out for a year and a half. The name arose from when I misheard her name and thought she was Megan for our first week of dating. Then it stuck. I'm a musician and while we were going out, I wrote her a song called 'It's always been you.' We broke up, she met someone new. After I saw the 20euro note on a FB post, I called her. She told me she had written it on a note she used to pay into one of my gigs about 6 months ago. I didn't know she was there. She told me she thought I'd get the cash directly but I obviously didn't. She took it that I didn't want to talk. So, now we're in touch again but the situation is quite different.
See? Happy ending.
Our fingers are crossed these two get back together; this story is too good for them to not live happily ever after.
Found this is my Purse this morning!!! Ah Christy She
Citations: The story behind this love message found on a 20 note is surprisingly poignant (Mashable)