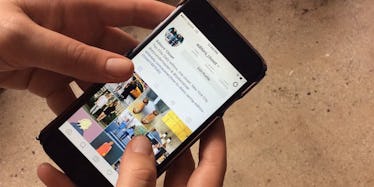 Instagram Just Got Rid Of This Major Feature And People Are Furious
Editors' Closet
If there's anything that proves social networks are intent on making their services less enjoyable with each update, it's this potential change from Instagram.
The photo-sharing app hinted at adding an update that gets rid of one of its most handy features: the list view. The list view allows users to switch up from the standard thumbnail view -- i.e. the default view of rows with three pictures each -- and displays a profile's images one by one.
Mashable's Raymond Wong detailed how his account was one of several that didn't have the list view anymore.
Some users who had similar experiences on their accounts over the past couple of weeks were pretty vocal about it on Twitter.
It's not exactly rocket science why people would be a little annoyed about Instagram removing a list feature, too. People are used to seeing it and use it to help them go through accounts' photos.
Secondly, and let's not underestimate this, it's a key snooping tool. We know it. We all do it. Now, let's just move on, OK?
That being said, it looks like there might be a method to IG's madness:
Whoaaa new discovery: Instagram is testing a continuous list view in the thumbnails view: pic.twitter.com/iWC0gJudWw — Raymond Wong (@raywongy) July 14, 2016
Mind you, all of this looks like it's a test on select accounts. But, rest easy. If Instagram does end up making this update, the list feature seems like it will live on, kinda.
Citations: http://mashable.com/2016/07/14/instagram-list-view-removal/#zpF.MjWp4Pq6 (Mashable)