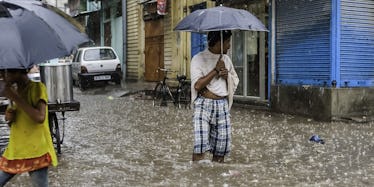 India's Monsoon Season Breaks 100-Year Record, Claims Nearly 300 Lives
Shutterstock
Each year from July to September, India experiences its monsoon season.
As heavy rains continue to fall beyond the season in the southern city of Chennai and surrounding areas, the country is experiencing its most significant rainfall in a century, according to The New York Times.
Director General of India's Meteorological Department Laxman Singh Rathore tells the Times, rains began in surrounding Tamil Nadu on November 12, where casualties have climbed to as many as 269.
Rathore says Chennai experienced almost 14 inches of rain on Wednesday alone.
In an address to Parliament, India Home Minister Rajnath Singh says,
The rains have broken the past 100 years' record, and this has created an unprecedented emergency situation in Chennai.
As a result, the government has shut down schools and advised private businesses to close their doors until the rainfall ends. Chennai's international airport, which has become nearly submerged as it allegedly sits on a flood plain of the Adyar River, has also been closed.
Director General of the Center for Science and Environment Sunita Narain addressed the repeated neglect of bodies of water in developing Chennai, saying,
...We have built over many of these water bodies, blocking the smooth flow of water. We have forgotten the art of drainage. We only see land for buildings, not for water.
The government has enlisted 30 teams from the National Disaster Response Force, seven columns of India's army and 12 Navy ships in and around Chennai, according to Singh.
Rain is expected to continue through Saturday, and monsoon season in the area will last until the end of December.
Correction: We previously reported India's monsoon season lasts between November and December, but it starts in July and ends in September.
Citations: India's Rescue Efforts Continue After Heavy Rains Torment Chennai (The New York Times)