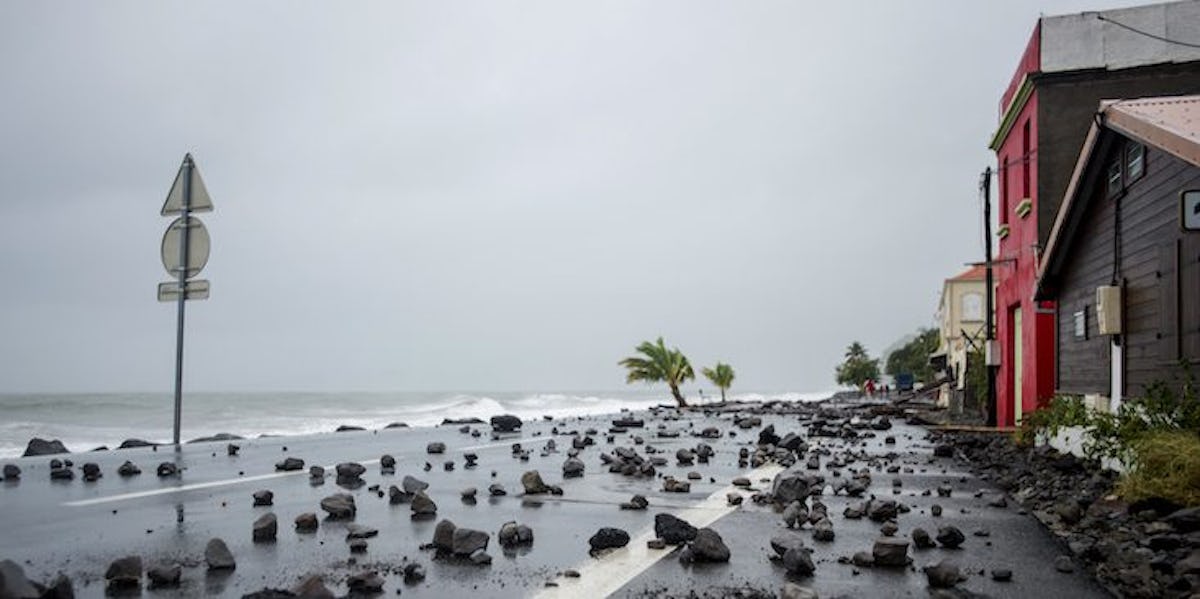 Hurricane Maria's Path Towards Florida Is Too Close For Comfort After Irma
LIONEL CHAMOISEAU/AFP/Getty Images
Hurricane season has been absolutely punishing this year, and it's far from over. First, there was Hurricane Harvey, which devastated Houston and left the city under water. Then Irma, which ravaged the Caribbean and Florida. Jose missed the southern U.S. but is treading water off the northeastern coast and could bring flooding and riptides. Now, only days after Irma left millions without power and killed at least 42 in Florida, another super storm, Hurricane Maria, is ripping its way through the Caribbean and could hit the U.S. And we're left wondering: will Hurricane Maria hit Florida?
The answer? Maybe not -- but it's too soon to know for sure.
The National Hurricane Center (NHC)'s current model shows Hurricane Maria hitting Puerto Rico as a Category 5 hurricane, with winds up to 160 miles per hour, which would be the first Category 5 hurricane to hit the small island in almost a century, according to The New York Times.
NHC's model then shows Maria heading northwest toward the Bahamas, which are a little more than 300 miles to the southeast of the tip of Florida. Right now, it appears that after passing directly over Puerto Rico, Maria will spin to the north, just clipping the southeastern portion of the Bahamian islands and missing Florida completely -- somewhat similar to the path that Hurricane Jose took.
That, however, is only one model: other meteorologists have predicted that, yes, Maria will miss Florida, but will make landfall in North Carolina. Still others say it'll affect the northeastern coast. Meteorologists working for several outlets have said that they will have a better idea of Maria's path by Sept. 21 or 22, according to The Charlotte Observer.
Despite predictions that Florida will be a near-miss, the Associated Press has reported that Governor Rick Scott has said that Florida residents should monitor Maria, "restock their hurricane kits, buy water and have an evacuation plan." According to Scott, about 2 percent of residents are still without power from Irma.
No matter whether Maria hits Florida -- or any part of the continental U.S., for that matter -- the storm is being called "catastrophic" by meteorologist Eric Holthaus and several others. And it's hitting many of the same places that were affected by Irma, like Guadeloupe and the British Virgin Islands.
Maria has already devastated the small island of Dominica and is headed directly for Puerto Rico, which is already being assaulted by rain and wind gusts. The Guardian reports that as of 4 p.m. ET on Sept. 19, Maria is roughly 185 miles to the southeast of Puerto Rico's capital, San Juan, and 85 miles southeast of St. Croix -- both of which were largely spared the brunt of the damage from Hurricane Irma.
According to the National Weather Service, which has issued several warnings to the entire island of Puerto Rico, the current threat to life and property is "extreme," and the potential impacts are anywhere from "devastating to catastrophic."
NBC Miami reported that Puerto Rico's Public Safety Commissioner Hector Pesquera told residents, "You have to evacuate. Otherwise, you're going to die. I don't know how to make this any clearer."
Already, Maria's strength is no joke: Roosevelt Skerrit, the Prime Minister of Dominica, wrote a series of Facebook posts detailing the destruction wrought by Maria as it hit the 73,000-resident island on Sept. 18.
After Skerrit was rescued, he wrote a lengthy post about the "widespread devastation" brought on by Maria. Roofs swept away, "mind boggling" damage that will require "help of all kinds."
Additionally, at least one death has been reported on the island of Guadeloupe, according to the AP.
Maria, it seems, will continue her path of destruction for the next few days,  so it's more important than ever to figure out how you can help hurricane disaster relief efforts. Elite Daily put together a guide on helping victims of Hurricane Irma, including places to donate money (the Salvation Army, Direct Impact Fund, and more) -- which you can use as a general template for victims of Maria. Lonely Planet also suggested donating to the Caribbean Disaster Emergency Fund, GlobalGiving, and the Center for Disaster Philanthropy, among others. As always, be cautious about where you donate your money, but please remember that relief and recovery will take years, and be as generous as possible.