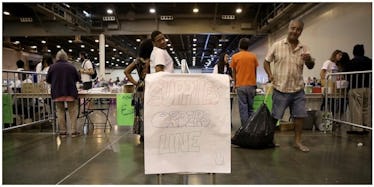 Here's What You Should Know About Donating To The Red Cross For Hurricane Harvey
Win McNamee/Getty Images
As Hurricane Harvey continues to displace Texans, many in the country are left wondering how they can help. Big names like Barack Obama have suggested donating to the Red Cross; you can set up donations on Facebook or instantly donate $10 via text. But should you donate to the Red Cross? The Red Cross has become ubiquitous with disaster relief, always quick to start accepting donations, but ProPublica and NPR, among others, have raised questions about where, exactly, your donations go.
UPDATE: The Red Cross tells Elite Daily, "The donations we receive are put to excellent use, and we are proud to be good stewards of donor dollars, every day and for every response." The organization adds that "an average of 91 cents of every dollar the Red Cross spends is invested in humanitarian services programs."
EARLIER: There have been murmurs about the Red Cross's effectiveness for years -- and every once in a while, a big story hits the organization -- but it is still considered one of the foremost names in disaster relief. However, with compounding claims of mismanagement of funds and lack of organization on-the-ground in disaster areas, folks are starting to worry about whether or not their money is really going to help victims. And now it might be happening again: NPR reported on Aug. 30 that Red Cross officials don't know what percentage of dollars donated will go to actually helping Harvey victims. Elite Daily reached out to the Red Cross for comment, but did not hear back at time of publication.
This is troubling news at a time when Harvey victims and Houston itself needs every dollar possible to not only start the long road to recovery but also to sustain temporary shelters, access to medicine and food, and more for evacuees.
ProPublica, a nonprofit investigative journalism outlet, wrote a compelling Twitter thread on Aug. 30 urging followers to think about donating elsewhere. After they started investigating where Red Cross funds for Superstorm Sandy were going, they discovered serious mismanagement. According to the outlet, Red Cross not only mismanaged on-the-ground efforts immediately after Sandy and Hurricane Isaac, but they diverted assets "for public relations purposes."
The Red Cross said in a statement to ProPublica,
While it's impossible to meet every need in the first chaotic hours and days of a disaster, we are proud that we were able to provide millions of people with hot meals, shelter, relief supplies and financial support during the 2012 hurricanes.
The large organization also botched relief efforts in Louisiana after August 2016 flooding left more than a dozen dead, according to ProPublica. The Red Cross said in a statement to ProPublica that "Given the size, scope and complexity of this disaster, it is not surprising that the Red Cross and our partners would be confronted by a range of challenges ... Thus admitting to challenges is acknowledging reality (not failure)."
The Red Cross also reportedly mismanaged efforts in Haiti after the 2010 earthquake devastated the already struggling island. The organization raised approximately $500 million for Haiti and built only six homes, ProPublica found. The Red Cross said in a statement,
Like many humanitarian organizations responding in Haiti, the American Red Cross met complications in relation to government coordination delays, disputes over land ownership, delays at Haitian customs, challenges finding qualified staff who were in short supply and high demand, and the cholera outbreak, among other challenges.
There seems to be a large disconnect between the public relations side of the Red Cross, which poses as first on the ground and essential to relief efforts, and the findings of NPR and ProPublica.
That said: the Red Cross is helping Harvey victims.
The organization reported on Sunday, Aug. 27, that they had set up 34 shelters in Texas thus far. They also reportedly have "enough shelter supplies in Texas to support 28,000 people and supplies for an additional 22,000 people are being sent in now." Mexico's Red Cross has also sent an envoy of trucks and volunteers with supplies and a willingness to help out in and around Houston, per Reuters. Thirty-three English-speaking volunteers made their way from Mexico City to the storm-beaten city, and they will stay for 20 days until they're replaced with new volunteers.
So if you happened to text a donation to the Red Cross, your money isn't necessarily being wasted. That said, if you're interested in donating to local nonprofits who are helping out during the ongoing flooding, Houstonia has put together a comprehensive list of local charities to choose from.