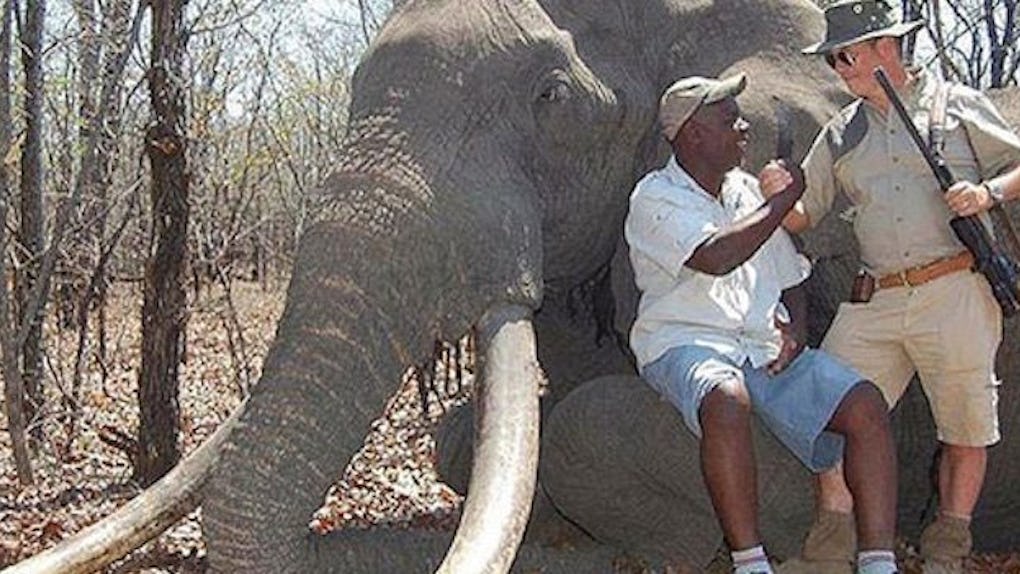 Twitter
Hunter Kills One Of The Largest Elephants To Ever Be Seen In Zimbabwe
A German hunter killed quite possibly the largest elephant in Zimbabwe.
The Telegraph reports the unnamed hunter paid $60,000 for a 21-day safari involving hunting elephants, buffalo, rhinoceros, leopards and lions. Accompanied by a popular local hunter, he shot the elephant on October 8 in Zimbabwe's Gonarezhou National Park.
The animal's identity is unknown, and it was never sighted at this particular park before, despite being one of the largest elephants Zimbabwe has ever seen.
Its age was estimated to be between 40 and 60 years old, and its tusks weighed an incredible 120 pounds each. Several hunting forums reportedly suggested the elephant was the largest to be killed in Africa in 30 years.
An unnamed man, identified as the orchestrator of the hunt, told The Telegraph the kill was entirely legal. He said,
We hunters have thick skins and we know what the greenies will say. This elephant was probably 60 years old and had spread its seed many many times over.
He claimed his company always obeyed animal quota regulations and even gave as much as 70 percent of its hunting fees to local villages.
He told The Telegraph,
This is good for Zimbabwe and good for local people. It's not uncommon for hunters to spend $100,000 each trip.
Louis Muller, chairman of the Zimbabwe Professional Hunters And Guides Association, told The Telegraph this exceptional elephant should have been wearing a collar to protect it from hunters.
He explained,
We have suggested before to all concerned parties that each elephant area should collar a few with biggest tusks, so that we do not shoot them. Nobody responded to our suggestion last year. We believe this might now be taken seriously.
Muller claimed the hunters were not aware of how huge the elephant's tusks were until they saw the elephant up close.
Local conservationists and safari guides slammed the hunter for preventing the rest of the world from seeing such a beautiful creature.
News of the hunt comes days after it was announced Minnesota's Walter Palmer, who killed a treasured lion in Zimbabwe, will not be charged in the African nation for his hunt.
Citations: Biggest elephant killed in Africa for almost 30 years brings back memories of Cecil the lion (The Telegraph)