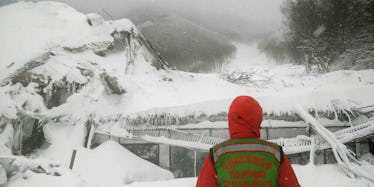 Hotel Guests Caught In Fatal Avalanche Send Heartbreaking Texts: 'We Are Dying'
Reuters
On Wednesday, Hotel Rigopiano, a three-story hotel located in Farindola, Italy was buried in a massive avalanche.
The avalanche covered the hotel in a six-foot wall of snow yesterday as four earthquakes rumbled through central Italy.
Terrified hotel guests and staff members sent text messages to emergency numbers and their loved ones after being trapped inside the crushed, snow-covered building.
The ANSA news agency reports a couple sent a text message to rescuers from inside the hotel that said, "Help, we're dying of cold."
Another guest who managed to escape from the hotel, Fabio Salzetta, sent an SMS message to emergency services, stating,
Some walls were knocked down. I'm outside with a maintenance worker but you can't see anything of the hotel, there's only a wall of snow in front of me.
At least 30 people, including guests and hotel staff, are missing in the aftermath of the avalanche.
The civil protection agency has been working to get emergency responders to the harrowing scene at Hotel Rigopiano.
However, bad weather conditions and snow-covered roads aren't helping the situation.
Alpine rescue teams have also joined in on the efforts to save the people trapped in the hotel.
After traveling six miles on skis, mountain rescue teams finally reached the scene at 4 am, according to SKY TG24.
Videos of the rescue efforts have surfaced, which show rescuers frantically digging through a wall of snow with shovels.
In another clip, you can see a chilling scene of snow piles and building debris as rescuers try to enter the hotel.
Rescue team video revealed the hotel's hallways have been inundated with giant piles of snow and rubble as a result of the avalanche.
ANSA reports rescuers have been calling out to survivors, but few are responding.
One of the survivors, 38-year-old Giampaolo Parete, claims he was spared because he was outside getting something out of his car when the snow came crashing down upon the hotel.
Miraculously, the man's car hadn't been buried by snow, so he simply waited there until rescuers arrived.
Unfortunately, Parete's family wasn't as lucky.
According to ANSA, Parete said his wife and two children were trapped beneath the snow.
So far, only two people have been rescued from the hotel.
Rescue teams are now extracting bodies from Hotel Rigopiano as they desperately continue to search for more survivors.
Citations: Trapped hotel guest texts 'help, we're dying of cold' after avalanche (Turn To 10)