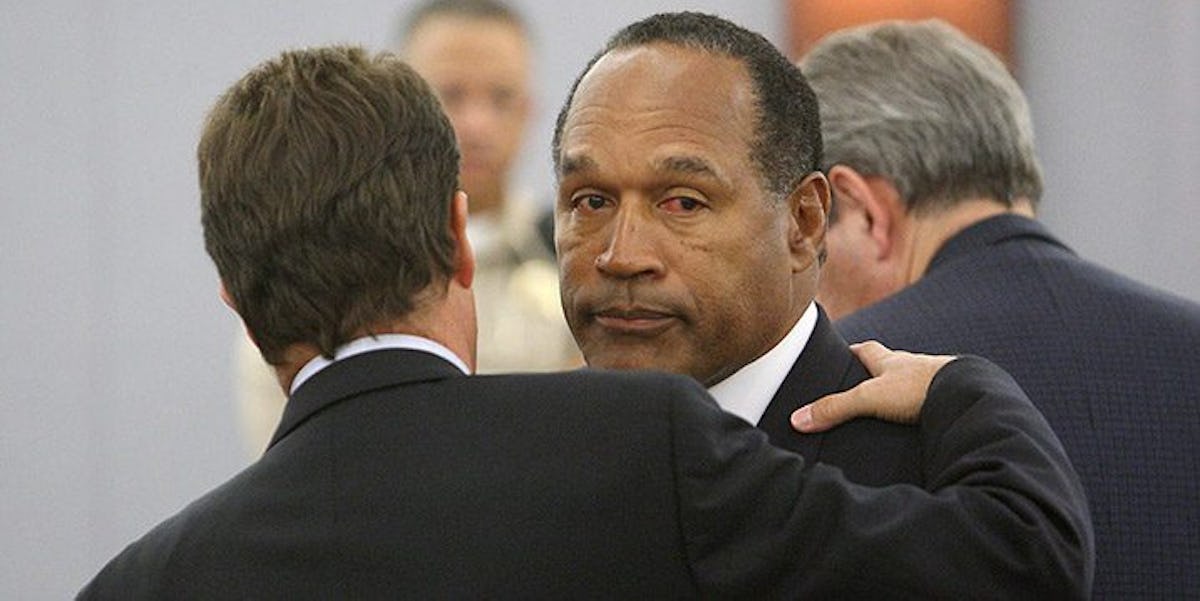 Here's How Much Time OJ Simpson Has Left To Serve On His Original Jail Sentence
Steve Marcus-Pool/Getty Images
The length of OJ Simpson's prison sentences hangs in the balance this summer.
On the one hand, the former NFL star could be freed later this year, if Simpson is granted parole.
Whether or not that happens depends on an upcoming hearing before the Nevada Board of Parole Commissioners, which begins on Thursday, July 20. Should four of the seven parole commissioners on the board vote in Simpson's favor, he will have earned a release, according to CNN.
Simpson already made parole on some of the charges for which he was convicted in 2008, via a hearing before the board in 2013. If Simpson makes parole on the remaining charges, the former NFL star could walk out of prison as early as October 1 of this year.
On the other hand, if Simpson's bid for parole fails, he could be looking at serving time far past 2017.
How much time does OJ Simpson have left to serve?
On Oct. 3, 2008, exactly 13 years after he was acquitted in his infamous murder trial, Simpson was found guilty of kidnapping and armed robbery, among other chargers.
Two months later, he was sentenced to a maximum of 33 years in prison with the possibility of parole in nine years. Even if Simpson doesn't make parole this summer, he will have another chance to avoid that max of 24 more years in prison.
First, however, he would have to serve as many as five more years in prison, according to ABC News. Afterwards, he'd have another hearing for parole in March 2022. That hearing would be mandatory, according to a report from Fox News, citing court documents and prison records.
What are the chances he makes it out this time around?
As Sports Illustrated points out, Simpson's chances of making parole this summer seem favorable due to a combination of factors, including good behavior and age.
Daniel Hill, a Las Vegas criminal defense attorney, told the publication,
He's the kind of person who gets paroled. He has done a significant amount of time and, by all accounts, hasn't caused any problems.
In any event, Simpson's status should be decided soon.