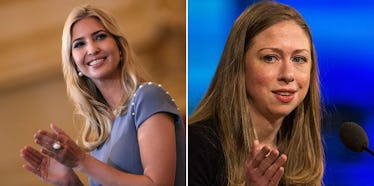 Here's What Ivanka Trump Can Learn From Chelsea Clinton's Harvey Response
Win McNamee/Getty Images / Andrew Burton/Getty Images
If you happened to have taken a peek at Chelsea Clinton's Twitter over the course of Hurricane Harvey's recent, tragic destruction, here are a few things you might have learned. There's a way to donate diapers to low-income families in Texas, Houston food banks are looking for volunteers, there's a phone number residents can call if they're in need of food and shelter, and many, many more useful tidbits. In case you were wondering, there was a large discrepancy between Ivanka Trump's and Chelsea Clinton's responses to Hurricane Harvey.
Let's start with Trump's social media response. The first daughter tweeted twice about Hurricane Harvey, first sending out a government link for preparation tips, and then following up with a thank you to first responders.
On the surface, both of those messages are all fine and good. But then, in the midst of a climbing death count in Houston and the storm currently slamming down in the Beaumont-Port Arthur region of Texas, Trump started tweeting about tax reform. The first daughter returned to social media to tout her father's new plan, spew something vague about the American Dream (is it just me or is her Twitter aesthetic becoming more and more like her father's?) and post a smiling group shot.
It just seems really tone-deaf, doesn't it? The most pressing issue facing America at this very moment is the current, ongoing devastation of a moving hurricane, and now is probably not the time to be tweeting about taxes. And if you think two tweets were enough to send a message of hope and help to the people of Texas, let's take a gander at Chelsea Clinton's twitter.
Call her an overachiever, but Clinton really wants to spread as much practical, useful information as possible to help those affected by the hurricane.
As of Aug. 30, literally her entire Twitter feed was filled with tweets and retweets about resources for victims and those who want to contribute.
She also took the time to address Donald Trump bragging about his crowd size to hurricane victims, by retweeting this:
While it's probably not the most completely proactive move to compare Clinton's and Trump's social media presence at this point – it is useful to compare Trump's and her father's accounts.
As in, both of them are trying to talk about tax reform right now.
Oh, and the president has also managed to squeeze in some commentary on the subject of North Korea and Mexico as well.
Now is really, really not the time to push the whole border wall narrative and yell about North Korea. Nor is it a time to start yelling about fake news either (yup, he did that too). In fact, wouldn't it be a novel approach to drop all of the negativity for a bit?
Note to the Trumps: Always follow Chelsea Clinton's Twitter for a lesson in being a class act/overall empathetic human being.