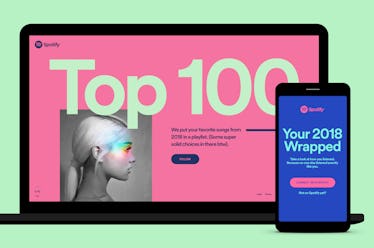 Your Spotify Wrapped Playlist For 2018 Is Finally Here To Make You Feel Nostalgic AF
Courtesy of Spotify
The end of 2018 is approaching, which means it's time to take a few minutes and look back on all of the music that helped you make it through the year. Thankfully, Spotify is here to help you remember all of your go-to songs from the past 12 months with its 2018 Wrapped experience. Not only will Spotify Wrapped reveal your personal listening data from 2018, but it'll also provide you with a playlist that includes your top 100 songs of year. If you're wondering how to get your Spotify Wrapped 2018 playlist so you can listen to your favorite songs from the past 365 days, read on. The process is simple (and really fun).
Before I move on, I will warn you that you might be overwhelmed with feelings of nostalgia when you hear your playlist. When I started listening to mine, I couldn't help but think back on 2018 — and it was a pretty emotional experience. If you're ready for all of the #feels, then let's get to it. The first thing you'll need to do is visit Spotify.com/2018 to access your Spotify Wrapped statistics for 2018. Once you're there, connect to your Spotify account and get ready for a walk down memory lane.
After you connect with Spotify, you'll be taken through a series of your personal musical milestones before you get to your actual playlist. To start, you'll be given the first artist and song that you listened to this year (talk about a throwback). Then, Spotify will tell you how much time you spent listening to music in 2018, followed by the amount of time you spent listening to your favorite artist. After that, you'll be given your top charts of the year, which include your go-to artists, songs, and genres. Like I said, this gets nostalgic AF, guys.
After you view your top charts of the year, you'll finally be given your personalized playlist for 2018. Once you get to that step, you'll be able to open your playlist on Spotify from your web browser and start listening. If you end up loving your unique playlist (which, you probably will if you were the one listening to the included songs), you can save it to your library on Spotify.
Getting your personalized playlist isn't the end of your Spotify Wrapped experience, though. After you're given your top 100 songs, you can keep scrolling through the virtual experience to find even more personalized listening statistics. Some of those include your favorite musical subgenre, the oldest song you listened to in 2018, your go-to podcast, and more.
What's cool about this year's Spotify Wrapped experience is that it'll introduce you to different music when you're done taking your walk down memory lane. To do so, it'll provide you with a Tastebreakers playlist that consists of artists that you don't typically listen to. Don't panic, though, because the playlist was created based off of your listening taste profile, per Spotify.
With that being said, you might discover brand new artists in 2019 that'll make your personalized playlist next year. In the meantime, enjoy your go-to songs from the past 12 months and embrace the nostalgia.