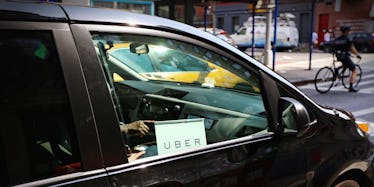 Guy Actually Tried To Get Away In An Uber After Robbing A Store
REX/Shutterstock
Just because Dashawn Terrell Cochran robs stores for a living doesn't mean he can't enjoy the simple Millennial conveniences of mobile transportation apps.
Every thief worth his or her weight in ski masks knows getting away from the scene of the crime is just as important as committing the actual felony.
And sure, you could find a friend to help you escape, but that involves social skills, looking up from your phone at parties to make a connection and eventually splitting the loot between you and your accomplice.
We live in the age of digital, on-demand services. Why talk to a real-life person when you can outsource your crime buddy to an app?
Cochran probably asked himself this very question before attempting to Uber himself out of a crime he committed.
The Baltimore Sun reports the 23-year-old armed thief held up Royal Farms, a convenience store, in Parkville, Maryland on October 7. When he left the scene, cash in hand, Cochran called an Uber and attempted to make his getaway from the crime.
Cops followed a lead from a witness who saw Cochran get into a nearby car, and the K-9 unit had him in custody within 30 minutes of the crime. Police detained three people at the scene, though they soon found out the driver and another passenger actually had nothing to do with the robbery.
Cochran is currently in jail and being held on $250,000 bail, but that doesn't make him any less of an innovator.
This is how our grandchildren will be robbing convenience stores in the future.
Citations: Tired man commits armed robbery, calls Uber to pick him up (Mashable), Balto. Co. police: Parkville robbery suspect fled in Uber vehicle (The Baltimore Sun)