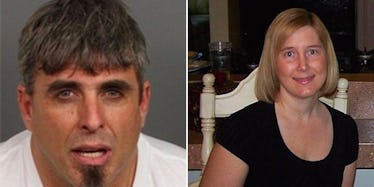 Guy Caught Murdering GF After He Accidentally Pocket Dials Friend During Attack
Indio Police/Facebook
A California man was allegedly caught murdering his girlfriend after he pocket dialed a friend during the terrifying attack.
Back in 2013, Jill Thomas Grant, a 41-year-old Palm Desert High School teacher, was found dead after having her throat slit and being run over near her residence in Indio, California.
Grant's boyfriend, 40-year-old Michael John Franco, has now been charged with her murder after a horrifying phone call allegedly captured the woman desperately pleading for her life.
According to court documents filed by the prosecution, Franco accidentally left this voicemail in which you can hear Jill Grant begging Franco to spare her.
While the majority of the voicemail is inaudible, The Desert Sun reports Grant can be heard saying,
What if I drive the car someplace and call myself and say I was attacked? Would that work? But we can think of something to say like (inaudible). I am sure we can think of something. Say it was (inaudible). What can we say? What do you want me to say? What should I say?
The prosecution believes Franco allegedly slit his girlfriend's throat with a box cutter before running her over with a car and finally dumping her boy at a golf course near her home. The brutal attack occurred just two days prior to Christmas.
The most recent documents filed by the prosecution add to the mounting evidence against Franco in this tragic murder. Surveillance cameras captured Franco entering a bank and using Grant's ATM card to withdraw money from her account the night she was murdered.
Plus, police later found Franco driving his girlfriend's car with Grant's driver's license, bank cards and her registered gun in his possession. Police claim after being stopped, Franco tried to reach for the gun and was consequently tasered.
According to the court documents, Franco revealed he was fleeing to Mexico and said he was "going to prison for the rest of his life" as officers took him into custody.
Prosecutors said Franco also told his cellmate he murdered his girlfriend. He allegedly confessed to bringing his girlfriend to the golf course in order to bury her body.
Upon arriving at the property, Grant was badly wounded but still alive. Franco then said he ran over Grant's body with his car when the woman tried to run away.
If that's not bad enough, the cellmate also claims Franco said he would "beat the case because he's going to act crazy and go to Patton State Hospital for seven years."
The cellmates will be testifying as witnesses during Franco's trail.
In addition to witness testimonies, blood evidence was discovered on the vehicle France was driving when he was pulled over by police.
On the night of Grant's death, the couple had planned to host a party. However, Franco called off the gathering at the last minute, which led Grant's brother to alert police of the man's suspicious behavior.
Franco pleaded not guilty to the murder of Jill Grant and is set to appear in court today for a pre-trial hearing.
Citations: Teacher who was 'murdered by her boyfriend' can be heard begging for her life in newly released recording of 'butt dial' call HE made to a friend (MailOnline), Teacher begged for her life in a 'butt dial' voicemail (The Desert Sun)