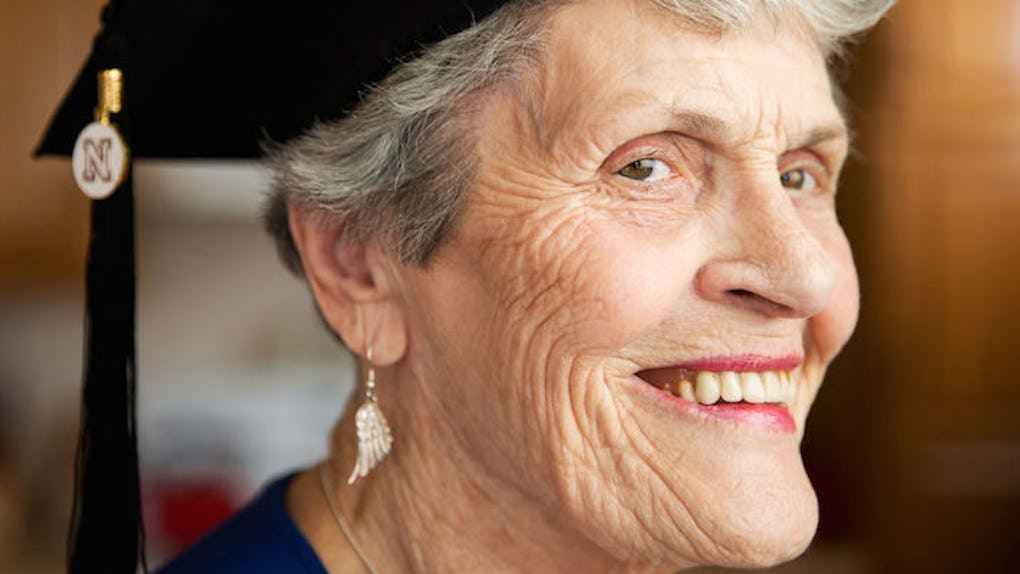 Facebook
Great-Grandmother Returns To College And Graduates After Losing Husband
A Nebraska great-grandmother will graduate from college this weekend at 87 years of age.
Eleanor "Jean" Mabie began classes at the University of Nebraska in 1945, according to the Omaha World-Herald, but she stopped two years later when she got a job with a welfare office.
In 1948, she married Lyle Kops, who had previously been summoned to work on his family's ranch, and any plans to finish college were put on hold.
The two remained loyal, loving partners who battled through tragedies such as a blizzard that put their ranch in jeopardy and a fire that took their home. But they rebuilt the house, had five daughters and managed to raise hundreds of cattle.
When Lyle died in 2011, Jean didn't know how she could ever heal her broken heart. Her daughters suggested she go back to school, and Jean scoffed at the idea.
But in January of the following year, the 83-year-old took two online classes, one of which was called "Issues in Aging," and aced them both.
One of her daughters was so proud, she asked her mother to continue where she left off at the University of Nebraska.
Brimming with confidence, Jean sold her house and moved to Lincoln.
The University of Nebraska-Lincoln accepted all the credits Jean accumulated when she first started college and luckily waived the requirement for her least favorite subject.
She said,
I was really worried about math.
Some of her classmates were younger than her grandchildren, but none of them could type faster than Jean.
Students sought advice from her in Human Sexuality, where she revealed she was a virgin before she got married.
Regina Werum, who teaches sociology at the college, told the World-Herald Jean's experiences were really helpful in the students' educations.
Of Jean, Werum said,
She was able to provide not just much-needed personal meaning of 'how do policies affect our lives,' but also what had — and had not — changed.
Jean will don her granddaughter's gown when she graduates with an individualized studies degree on Saturday.
Her oldest daughter says her mother has taken on a new air since going back to school. She continued,
She has really blossomed. Just like a flower that's opened up. Just come to life.
Kops isn't sure what she'll do next, but she says she'll "find something."
Citations: Great-grandmother 87 finishes what she started shell be a college graduate Saturday (Omaha World-Herald)