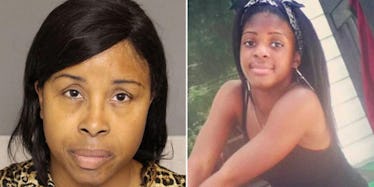 Grandma Of Teen Abducted At Birth Reveals Tiny Clue That Caught The Kidnapper
Police/Facebook
A teenager found alive 18 years after she was abducted at birth has been reunited with her family.
Kamiyah Mobley was just hours old when she vanished from a hospital room in Jacksonville, Florida, in July 1998 — with Gloria Williams allegedly posing as a nurse before snatching the baby.
Williams raised the girl as her own, but has now been arrested following an FBI investigation. Now Kamiyah's paternal grandma, Velma Aiken, has spoken out about the moment she vanished.
According to CNN, she told HLN the family assumed Williams was a nurse, but there was something suspicious about her appearance:
She had on a nurse's uniform. I thought it was weird she had her pocketbook on her shoulder with the baby in her arms, and she had on gloves.
Williams then took the newborn away for "medical tests," telling the family she would return in 15 minutes.
Ms Aiken added,
I just kept thinking, 'Lord, if I had known that my intuition was right, I could've stopped her.'
Kamiyah grew up less than 200 miles away in Walterboro, South Carolina, falsely believing her name was Alexis Manigo. She was located after a series of tips to the National Center for Missing and Exploited Children.
The 18-year-old had an emotional goodbye with Williams when the 51-year-old was arrested and taken into custody, telling her, "I love you, mom."
In an emotional interview with ABC, she said Williams "will always be mom." Her biological family was informed shortly after she was discovered.
 Aiken added,
When they told me my grandbaby was alive, and well, and cared for, that's all that matters to me.
On January 14, Kamiyah's rollercoaster start to the year continued when she met the family.
Williams, who reportedly created fraudulent identification documents for the child, has been arrested and charged with kidnapping and interference with custody.
If convicted, she could face life in prison.
Citations: 18-Year-Old Kidnapped at Birth Speaks Out for First Time (ABC News), Grandmother recalls kidnapping of newborn 18 years ago (CNN)