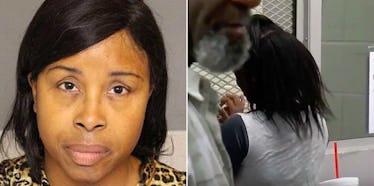 18-Year-Old Abducted At Birth Says Tearful Goodbye To Kidnapper 'Mom' In Jail
Colleton County Jail
On Friday morning, Alexis Manigo, an 18-year-old living in Walterboro, South Carolina, discovered the woman who raised her from the day she was born was not her mother.
In fact, she found out "Alexis Manigo" was not even her real name.
Based off recent DNA tests, authorities concluded the teenager is actually Kamiyah Mobley, the infant who was kidnapped from a Florida hospital in July 1998, eight hours after she was born.
Her alleged kidnapper, 51-year-old Gloria Williams, raised Mobley as if she were her own after fleeing the hospital, and reportedly created fraudulent identification documents for the infant.
However, after 18 years of claiming to be Mobley's biological mother, her crime was unveiled by authorities.
According to DailyMail.com, Jacksonville police were eventually led to South Carolina after a tip was received by the National Center for Missing and Exploited Children last year.
On Friday morning, the 18-year-old was found in South Carolina, where she was sharing a home with Williams, Williams' husband and two of Williams' biological children.
Williams was then arrested and charged with kidnapping and interference with custody.
After authorities charged Williams with kidnapping Mobley as an infant, the teenager allegedly took to Facebook to defend her "mother," saying,
My mother raised me with everything I needed and most of all everything I wanted.
Williams was taken to the Colleton County Jail in Walterboro, South Carolina, where a teary-eyed Mobley said an emotional goodbye to the woman who raised her for 18 years.
While speaking to Williams through a mesh screen in jail, she said, "I love you, Mom."
Kamiyah Mobley was taken on July 10, 1998 from the University Medical Center, now known as UF Health Jacksonville.
Mobley's biological mother, Shanara Mobley, was 16 years old at the time, and her father, Craig Aiken, was 19 and in jail at the time of birth.
It's been reported Williams was inside Shanara's room with her and Kamiyah after the infant was born. She was allegedly wearing a blue smock with flowers and surgical gloves.
Shanara thought she was a nurse, but the hospital thought she was a family member.
After five hours in the room together, Williams reportedly said Kamiyah had a fever and then left with the baby in her arms.
Shanara's mother, Velma, was present in the hospital and became suspicious when she saw Williams leave with a purse slung over her shoulder.
Commenting on her moments of uncertainty, Velma reportedly said,
I just feel like if I would have reacted on my feelings… I could have done something. I could have taken that lady out with my bare hands.
Thankfully, the family no longer needs to live in distress and curiosity about their missing daughter, and their reunion is being planned.
Although Mobley was saddened to see the woman she knows as her mother jailed, she apparently already FaceTimed her biological parents and has plans of meeting them on Saturday morning in South Carolina.
After talking with his daughter for the first time, Aiken said,
We had a nice conversation. We laughed. We got to know each other a little bit. I just can't wait for her to come here, so I can be with her for the first time.
Williams is currently being held without bond in South Carolina, but will soon be extradited to Florida.
If convicted, she could face life in prison.
Citations: Daily Mail