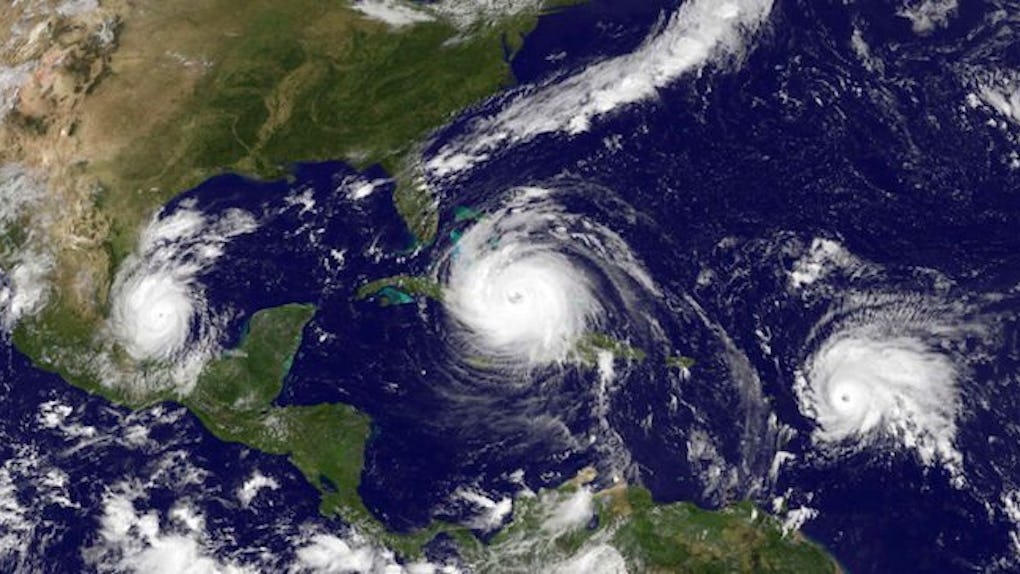 Handout / Getty Images
Governor Of Florida Urges Citizens To "Leave Now" As Hurricane Irma Approaches
Hurricane Irma hit the southern tip of Florida on Sept. 9, slamming down with strong winds and heavy rainfall. As the storm begins its descent onto the Sunshine State, 5.6 million people (aka more than a quarter of the state) have already been told evacuate -- and that's a order, not a request. Rick Scott, Florida's governor, warned residents to "leave now" as Hurricane Irma approaches.
Irma leaves behind a trail of devastation as it heads towards United States mainland. It's been reported by CNN that 24 people were killed in the Caribbean last week, as the islands were catastrophically damaged. Barbuda was hit the hardest, with Prime Minister Gaston Browne calling the storm's effects on the island a "total devastation."
Irma's winds have since been downgraded from a historic speed of 185 mph to 130 mph -- but that definitely should not lull anyone into a false sense of security. According to the National Hurricane Center, the storm will regain full strength when it lands in Florida this weekend, complete with "damaging winds and heavy rain." The outer bands of Irma shifted towards Miami-Dade County Saturday morning, while the eye of the storm is expected to hit the Florida Keys and Tampa on Sunday.
Warnings for Florida resident to get out -- and get out now -- have been flooding in from government officials, local police, and meteorologists. According to CNN, authorities went door to door asking people to leaves their homes, and Gov. Scott released a dire statement on Sept. 8, right before the storm hit, saying,
If you have been ordered to evacuate, leave now – not tonight, not in an hour, now.
The governor elaborated on the gravity of the situation, pointing out that 25,000 have already lost power and that storm surge could reach a whopping 12 ft. He added,
This will cover your house. You will not survive all this storm surge.
And if any residents do choose to stay? Well, Scott said, they will be doing so "at [their] own risk."
President Trump added his own words of warning during his weekly address on Sept. 8, saying that the storm has "absolutely historic destructive potential." He said,
I ask everyone in the storm's path to be vigilant, and to heed all recommendations from government officials and law enforcement.
Now, if all of that isn't enough to get people grabbing their bags and running for the hills, just check out these string of tweets from the National Weather Service... because they're pretty terrifying:
Thousands have already hit the road in what might be a historic mass exodus, prompting gas shortages and gridlock as residents try getting out of Florida as quickly as possible. While Gov. Scott said that the state will try "aggressively to keep gas stations open and filled," ports have already be shut down and supplies will reportedly end within hours.
More than 260 shelters are available to those who chose not to evacuate, along with an additional 70 shelters set to open on Sept. 9, New York Times reports.  Some shelters in Miami have reached capacity, The Miami Herald reports, with six facilities already having to turn people away. County commissioner Dennis Moss said that residents are arriving in "droves."
About 50,000 people are currently in shelters right now and it appears nurses and healthcare workers are in short supply. Gov. Scott put out a plea, asking that anyone who qualifies to help out visit FLHealth.gov immediately. He said,
We are under a state of emergency. Healthcare staff, we need you to be there to help your community. We need 1,000 volunteer nurses for special needs shelters.
Images from Florida's streets have started to pour onto social media, showing eerily vacant streets, boarded up shops and the beginnings of torrential downpour.
Stay safe, Florida! We're all thinking about you.