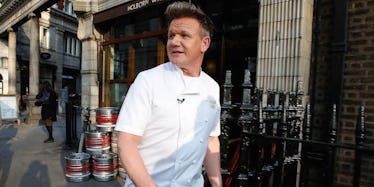 Gordon Ramsay 'Knows Where Plane Food Has Been' And We're All Grossed Out
REX/Shutterstock
Let's talk about plane food.
For starters, it's not good.
It's commonly accepted that you're not going to get a succulent steak or fresh salad when you're cruising thousands of feet in the air, but that's fine.
At least the options we do have are edible, and plane meals have come a long way in the last few years.
Even so, it's not surprising when someone says they refuse to eat plane food, but when that person is Gordon Ramsay, you should definitely sit up and take notice.
The swearing chef revealed to Refinery29 it's the only thing he won't eat.
Spoiler alert: You'll want to bring some snacks on board for your next flight.
He said,
There's no fucking way I eat on planes. I worked for airlines for 10 years, so I know where this food's been and where it goes and how long it took before it got on board.
Let's break this down.
Not only is he one of the world's most famous chefs, but Ramsay spent a decade working in air travel. It's safe to say he knows what he's talking about.
This is definitely the time to worry about the mysterious meaty thing you tentatively chowed down on your last flight.
What makes it worse is he doesn't go into details — dammit Ramsay, just tell us these things instead of leaving us hanging!
Instead, Rambo likes to eat at his own restaurant, Plane Food (not to be confused with plane food, obviously) at London's Heathrow Airport.
If he's not flying from there, he "keeps it light" to avoid those dreaded in-flight meals, saying,
A nice selection of Italian meats, a little glass of red wines, some sliced apples or pears with some parmesan cheese, I'm like a pig in shit.
It's your choice. Go hungry on a long haul flight, or save your stomach from something you couldn't pay Ramsay to touch.
Citations: The One Thing Gordon Ramsay Will NEVER Eat (Refinery29)