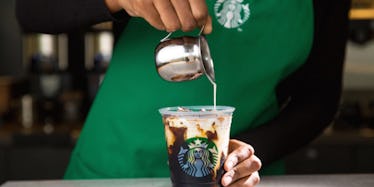 If You Get Your Coffee From Starbucks, We Have Some Really Bad News
Joshua Trujillo/Starbucks
I came to New York City from London three weeks ago with stereotypes of you Yanks in my head. I'm pleased to report most of them are true: You're louder and more energetic than us Brits, most of you love my accent and every single one of you can't get enough of Starbucks.
You know there are other coffee shops, right?
It's little wonder why Starbucks is so popular, though. The coffee does what is says on the cup, and it's a hell of a lot cheaper than Starbucks back in England.
But it looks like that's about to change.
Starbucks has announced on its website that it is planning a "small price increase" starting July 12.
The chain has raised prices in the first week of July for the last couple of years, but the hike was revealed early this year because a computer glitch meant that the prices increased last week by mistake. The chain explained,
On July 12, Starbucks is planning a small price increase on select beverages. Unfortunately, that price adjustment was prematurely entered into the point of sale systems in our U.S. company-operated stores. As a result, some customers were charged incorrectly. The maximum any customer could have been overcharged is 30 cents per beverage.
So that's why your extra shot punched your purse in the face last Tuesday.
Starbucks encourages anyone who felt like they were overcharged to contact customer services on 1-800-782-7282. They promise to "make it right." We hope that means free lattes for life.
Citations: Starbucks