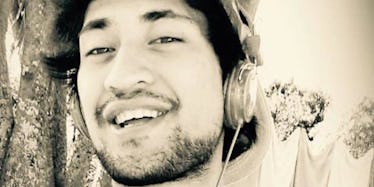 Gay Man Thrown Off Bridge After Rejecting Straight Married Man's Sexual Advances
Joth Wilson/Facebook
In a horrible turn of events, a 25-year-old gay man from New Zealand was found in critical condition under a bridge after allegedly refusing sexual advances from another man with a wife and kids.
Joth Wilson was discovered underneath a Gladstone, Queensland train bridge at around 2 am on New Year's Day by his husband, 33-year-old Maioha Tokotaua, according to Daily Mail.
After heading out to pick up cigarettes minutes before midnight, Tokotaua became suspicious when Wilson failed to return home after midnight came and went. A two-hour search eventually led Tokotaua to Wilson's unconscious body.
Tokotaua originally believed it was a suicide attempt before seeing that his husband's wallet and hat were missing, which suggested a robbery took place.
Along with a broken neck, back, four broken ribs and severed spinal cord, Wilson suffered burns on close to half of his body and a brain hemorrhage. He is currently in severe, but critical condition, and is unlikely to walk again.
Tokotaua, who described Wilson's body as "mangled" when he finally found him, is under the impression this attack was sparked by the married man's fear that his family would eventually discover his failed attempts at infidelity.
"There were these guys who had been harassing us for some time after one of them, who is married with children, made an advance that Joth rejected," he told Daily Mail.
"There's no money involved, no drugs, no debt, there's just no motive for the attack other than they were intimidated that we might tell their families."
No arrests have been made by the Queensland Police, and they suspect the burns may have come from power lines near the train tracks.
Tokotaua has strong beliefs that it was all a vicious "gay hate crime."
I'm going to have to agree. By the sounds of it, all evidence points at this man committing this brutal crime so his family wouldn't discover his apparent homosexual urges. It's such a horrible feeling to know someone could be that much a monster and have no issue doing this to someone else.
Let's hope justice is served and this guy, whoever he may be, is locked up as soon as possible.
Citations: Gay man found with broken neck, horrific burns and a severed spinal cord was 'thrown off a bridge by a MARRIED man after rejecting him' (Daily Mail)