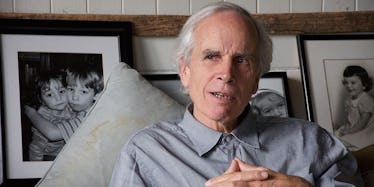 72-Year-Old Founder Of North Face Dies After Tragic Kayaking Accident
The founder of The North Face and Espirit died in a kayaking accident at the age of 72.
According to The New York Times, Douglas Tompkins was kayaking with five people in Chile's General Carrera Lake on Tuesday when powerful waves forced the boats to capsize.
All of the other kayakers were spared from serious injuries, thanks to a military patrol boat and a helicopter, but Tompkins died at the hospital.
He suffered severe hypothermia after spending a "considerable amount of time in waters under 4 degrees Celsius," or 40 degrees Fahrenheit, local prosecutor Pedro Salgado reportedly told radio station Bío Bío.
Tompkins' daughter Summer Tompkins Walker, told The New York Times,
He flew airplanes, he climbed to the top of mountains all over the world. To have lost his life in a lake and have nature just sort of gobble him up is just shocking.
Tompkins was born in Ohio, but his family soon relocated to New York's Hudson Valley, where he developed a love for rock and mountain climbing.
He learned to ski at age 15 during several family trips to Wyoming.
A spokesman for Tompkins' environmental group, the Foundation For Deep Ecology, said Tompkins attended a Connecticut prep school but never finished and did not go to college.
The North Face began as a ski and backpacking retail store in North Beach, San Francisco in the 1960s.
Soon after, Tompkins met his first wife, Susie Tompkins Buell, while hitchhiking around Tahoe City.
With the help of another woman, Jane Tise, the couple sold dresses out of a station wagon and eventually grew their business into Espirit.
Tompkins reportedly sold his stake in Espirit for over $150 million in 1990, one year after ending his first marriage, and allowed The North Face to be acquired by VF Corporation in 2000.
He since focused on conservation in South America, buying about 2.2 million acres of land including Chile's Pumalín Park, one of the largest private parks on Earth.
Equally dedicated to such efforts is Tompkins' second wife and the former CEO of clothing company Patagonia, Kristine.
The two were in the process of developing new parks in Patagonia, as well as northern Argentina, before Tompkins' death.
Aside from Kristine and his daughter Summer, Tompkins also left behind a second daughter, Quincey Tompkins Imhoff.
Citations: Douglas Tompkins 72 North Face Founder Dies in Kayaking Accident (The New York Times)