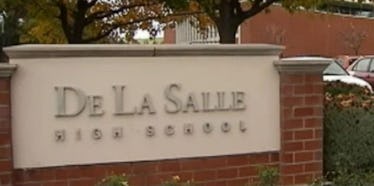 Football Player Convicted Of Rape, Despite Dad's Claim That "Lots Of Girls" Wanted Him
NBC
Following an ongoing investigation, a former high school football player has been convicted of raping a girl from a nearby high school, despite his father claiming the sex must've been consensual due to there being "a lot of girls that want to be with" him.
The survivor, an unnamed freshman at the all-female Carondelet High School, reported the sexual assault in November following a De La Salle High School varsity football game, according to East Bay Times.
After speaking with her principal, the police were called, and the boy, age 15 at the time, was arrested just a few days later. The boy's father spoke with the East Bay Times in hopes of defending his son from the allegations, stating:
He's tall, dark and handsome, he plays for De La Salle, there's a lot of girls that want to be with my son. When young, fast girls see something they like, they go after it … She's the one that basically chased my son down. They were just two teenagers having sex; they were just doing it at the wrong place, at the wrong time.
The father's incessant reminders about his son being "popular" underscores the importance of complete consent before a sexual encounter. Just because an individual may appear "popular" doesn't immediately mean people want to have sex with them. There is no connection between popularity and sexual interest, and the two should not be considered mutually exclusive.
Consent must always be established between all parties involved, no matter what.
The girl, who shall remain unnamed because she is a minor, spoke with KPIX 5 television station back in December and stated that she, in no way, consented to any sexual activity with the boy and that the police have actual surveillance footage that reveals parts of the assault that occurred that night.
The boy has since been found guilty on charges of rape and oral copulation by juvenile court.
Juvenile wards of the court are not allowed to be given fixed prison sentences, so the court's ruling will place the boy in a juvenile detention center for the rest of his young adulthood. There is a chance the charges will elevate to a maximum confinement period of 10 years.
Further information about everything else that occurred in juvenile court is not available to the public due to privacy restrictions.
"The victim is an amazing young lady," Contra Costa County deputy district attorney Jean Skilling said. "She is to be commended for her courage to come forward and seek justice, not only for herself but also on behalf of all victims of sexual assault."
The Carondelet girl has continued to stay strong throughout the entire ordeal, speaking out against rumors that began making their way around since the assault. "I was there, and I know what actually happened, so I don't let it get to me," she told KPIX5.
She continued,
It's not OK for this to happen to anyone and it's not OK for people, like society, to feel like the person that's been hurt, that they've done something wrong to feel ashamed about the situation.
The fact that this happened between teenagers serves as a reminder of just how necessary the conversation on consent actually is. The earlier the talk is had, the better.
Consent is necessary before any type of sexual encounters take place. Someone's supposed level of "popularity" doesn't give them the right to force themselves upon anyone. If consent is not given, sex shouldn't be taking place, and "no" should never be taken as a light suggestion.
"Boys need to know that no means no, period. Point blank," the survivor said.
Citations: De La Salle sex assault case: Former freshman football player found to have raped teen (East Bay Times), De La Salle sex assault case: Suspect's father, a registered sex offender, defends son (East Bay Times), Football Star Found to Have Raped Teen, After His Dad Said 'Lots of Girls' Want Him (NYMag), Teen Victim Speaks Out On Alleged De La Salle Sexual Assault (KPIX5)