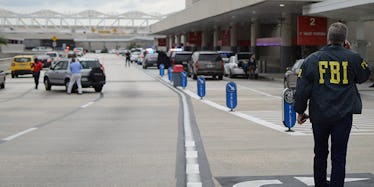 Florida Shooter Told FBI Last Year He Was Being Forced To Watch ISIS Videos
REUTERS
While no definitive motive for Esteban Santiago has been confirmed, after the armed forces veteran killed five people at a Florida airport on Friday, multiple reports have pointed toward one possible catalyst: "voices" in his head.
That is what Santiago may have heard, according to the New York Times, which reported on Friday that federal law enforcement officials were investigating whether said voices had been prompting the gunman to commit violence.
The investigation into Santiago's attack at the Fort Lauderdale-Hollywood International Airport, which wounded eight people in addition to the handful of fatal victims, will not be the first time federal officials will question the 26-year-old's mental state.
FBI officials in Alaska had urged Santiago to seek mental care after he visited an FBI office in Anchorage this past November, the Times reports.
The same report cited a senior law enforcement official who said Santiago claimed "his mind was being controlled by a US intelligence agency."
Meanwhile, both the Washington Post and NBC News reported that the veteran had more specifically mentioned the CIA was forcing him to watch ISIS videos.
Still, an official told the Times that after turning him over to local authorities the FBI ultimately "closed its assessment" on Santiago, who was once deployed in Iraq. The official said,
Although Santiago stated that he did not wish to harm anyone, as a result of his erratic behavior, interviewing agents contacted local authorities. The FBI closed its assessment of Santiago after conducting database reviews, interagency checks, and interviews of his family members.
Now, however, FBI officials outside of Alaska have been prompted to take their own look at Santiago after Friday's events.
George Piro, a special agent who heads the FBI's Miami division, told the Washington Post,
We are looking at all avenues. We have not ruled out terrorism, and we will be pursuing every angle to try to determine the motive behind this attack.
Santiago was taken into custody without incident, laying down on the floor and waiting for authorities to arrest him, the Post reported, citing witness accounts.
As more information is revealed about Santiago, one thing is becoming increasingly clear: his mental health was a cause for concern, even before Friday.
Citations: New York Times, Washington Post, NBC News