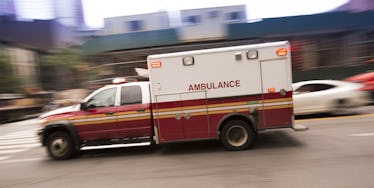 Woman's Fiancé And Mom Tragically Died In Car Crash While She Gave Birth
Getty Images
A woman lost her fiancé and mother in a car accident while she was at the hospital having her first child.
According to MLive, 24-year-old Crystal Matrau-Belt was 39 weeks pregnant and experiencing high blood pressure when her doctor chose to induce labor during a checkup in Kalamazoo, Michigan on Friday.
The next day, Matrau-Belt reportedly blacked out while she was still in labor.
After doctors stabilized her, she contacted her fiancé, Emil Skokan III, and told him to come to the hospital since she would soon have a C-section.
Matrau-Belt told MLive,
I got a text from [Emil], 'Do you want me to bring up anything?' and just said I'll meet you up there and that he loved me.
Matrau-Belt's mother, Peggy Nichols, planned on heading to the hospital as well. It appears Nichols, 53, first stopped at Matrau-Belt's house, where she met Skokan, 34, as he was about to leave.
According to reports, the two decided to go to the hospital together a little before 4 pm.
Skokan reportedly lost control of the car, hitting a tree and killing them both on what seems to have been a residential street.
Matrau-Belt was most likely preparing to have her baby at the time they were killed.
She recalled,
They had brought my stepdad out of the room, but no one told me anything. I couldn't get a hold of them. Instead of stressing me out, they just really wanted me to go and get the C-section done.
After the birth, family members flooded the room to meet baby Jeremiah, but Matrau-Belt said she had an uneasy feeling when she realized her mother and fiancé were nowhere to be found.
Her stepfather broke the news to her three hours after the delivery.
Skokan was likely traveling at a high speed before the crash, according to authorities.
Matrau-Belt said,
I want to celebrate him being born, but losing my fiancé who I loved so much, and my mom at the same time, it's a really big struggle to try to balance all of that. I go from grief for one person and I'm crying hysterically and just upset, and then I'm OK, and then it flips to the other person and then it's back and forth because both of them were so important in my life. To lose them both at a time like this, it's really hard.
Skokan is survived by his three sons: Emil Skokan IV, Kayden Skoka and baby Jeremiah.
Matrau-Belt and her baby were due to be released from the hospital at some point on Tuesday.
Citations: Joy and tragedy New mother loses fiance mom in crash (MLive)