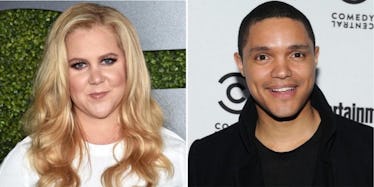 F*ck The Haters: How A Badass Comedian Became Our Person Of The Year
Getty Images
At the culmination of each year, Time Magazine famously selects a "Person of the Year," choosing an individual who had a major impact on the news.
For 2015's Person of the Year, Time selected German Chancellor Angela Merkel, who helped see Europe through an economic crisis and set an example for the world by opening her country to refugees, among other accomplishments. She was definitely deserving of this accolade.
But this has also been a big year for Millennials, with many members of this generation involved in numerous positive endeavors both in the US and around the world.
From Malala Yousafzai and Mark Zuckerberg to Trevor Noah and Brandon Stanton, there are so many examples of Millennials actively changing the world for the better.
You might find us staring at our smartphones too often, and we probably spend too much time on social media, but that doesn't mean this generation isn't contributing to the globe in meaningful ways.
Millennials have consistently proven to be one of the most socially conscious and progressive generations in recent memory.
At Elite Daily, we felt Millennials deserved more recognition, so we took a vote on which member of this generation should be deemed "Person of the Year" for 2015.
The shortlist: Malala Yousafzai, Trevor Noah, DeRay Mckesson, Brandon Stanton and Amy Schumer.
Ultimately, after polling the staff at Elite Daily headquarters in Manhattan, we selected Amy Schumer as our person of the year, with Malala following in a very close second.
While it was a narrow victory, Schumer is definitely worthy of the title.
Amy Schumer is not only a talented comedian and actress, she's a fearless individual with a big heart who's taken courageous stances on a wide array of issues.
She completely shuts down all the haters.
Schumer is proof self-confidence and self-acceptance are among the most attractive and important attributes a person can have.
During her hilarious acceptance speech for the Trailblazer award at the 2015 GLAMOUR Awards, Schumer stated,
I'm, like, 160 pounds right now, and I can catch a d*ck whenever I want, and that's the truth.
Schumer admits she struggled with her body image in the past, but now she refuses to let people make her feel insecure about her appearance or weight. And she's encouraging other people to do the same. In the patriarchal, superficial and judgmental world we live in, the importance of this cannot be overstated.
All of this is precisely why Schumer was selected to be in the 2016 Pirelli Calendar.
Typically, this calendar features top international models. This year, however, the photographer involved, Annie Leibovitz, selected women for the calendar based on their accomplishments instead of their appearances.
Schumer posed partially nude for the calendar, and posted her photo on Instagram with the caption,
Beautiful, gross, strong, thin, fat, pretty, ugly, sexy, disgusting, flawless, woman. Thank you, Annie Leibovitz!
And thank you, Ms. Schumer, for being such an all around badass.
She's taking a stand against slut-shaming.
There's an evident double-standard in our society when it comes to sex.
If a man has a healthy sex-life, he's typically applauded. But if the same is true for a woman, she's often labeled promiscuous and deemed a "slut."
Schumer has had enough of this.
She wants women to own their sexuality and be proud of it.
Schumer thinks it's ludicrous people are perpetuating the myth women don't like sex as much as men, arguing,
I just think sex is explained incorrectly as far as men's and women's roles go... It's insane. I don't know any girls like that. Every girl I know likes having sex. I love having sex. Not a weird amount -- like a normal person. You're made to feel really weird and disgusting if you're a girl who likes to have sex.
Indeed, sex is a natural aspect of our existence, regardless of gender.
Schumer is helping women feel empowered, and making a lot of people laugh along the way. We need more people like her.
She's been a vocal advocate for gun control.
After a disturbing shooting over the summer at a showing of her film, "Trainwreck," at a theater in Louisiana, Schumer decided enough was enough and started speaking out on gun violence.
She joined her cousin, Senator Chuck Schumer, in publicly advocating for more gun control.
At a press conference in August, Schumer said,
I'm not sure why this man chose my movie to end those two lives and injure nine others, but it was very personal for me. We always find out how the shooter got their gun, and it's always something that never should have happened in the first place.
Schumer also recently joined President Barack Obama and other celebrities in a powerful video calling for an end to gun violence in the US.
Gun violence is a massive problem in the US, claiming around 10,000 lives per year. In total, there are around 30,000 gun-related deaths in the US annually.
Moreover, 2015 marks the first time in over half a century guns are killing Americans at the same rate as cars.
We need more people in positions of influence to speak out on this, as it remains a deeply divisive issue and our politicians refuse to take the actions necessary for reform.
Thank you, Amy Schumer, for having the courage to take a public stand on such an incendiary topic. And thank you for making us laugh our asses off on a regular basis. It's much appreciated.
P.S. "Trainwreck" was fantastic and you definitely deserve the Golden Globe nomination. Good luck!