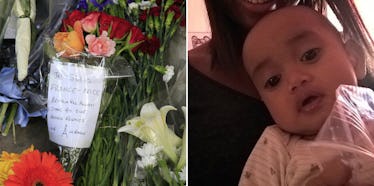 Facebook Helps Reunite Lost Baby Boy With His Mother After Nice Terror Attack
You can never imagine the horror of a losing a loved one during one of the worst moments of your life. But, that's exactly what happened to one French mother during the Bastille Day terror attack in Nice, France on Thursday.
In the commotion of the truck running people down, which left 84 people dead and 188 hospitalized, the mother apparently lost her baby boy.
So to try and find the boy, friends of the mom did one of the only things they could do in the moment to help: They posted to Facebook asking for help locating the lost boy.
Rebecca Boulanger, apparently helping Yohlaine Ramasitera, a friend of the mother who posted a photo of herself and the baby, said in a post on Facebook,
Attack in Nice ! We are safe, My family, and many friends decided to stay home instead of going to see the fireworks as we usually do on the 14th of July. Several of our church members were there and made it home but saw many bodies on the ground... VERY IMPORTANT: in the rush of things with shots being fired some friends of our friends lost their baby boy !!! a 8-10 month old beautiful baby : PLEASE AGREE WITH US THEY WILL FIND HIM : an enlarged family group are out to find him amidst the uncertainty Photo will follow PRAY FOR THE SAFETY OF ALL STILL OUT THERE & WISDOM FOR OUR POLICE FORCES TO SHUT DOWN THIS ATTACK !
According to another post from Boulanger on Facebook, the boy was lost in the commotion of the crowds and was in a blue stroller.
Luckily after all the posts and a reported 22,000 shares on Facebook, it didn't take too long for the lost boy to be located. Boulanger followed up with another post about an hour after the initial post to share the news the baby boy was found and people were going to pick him up bring back to his parents!
Boulanger wrote on Facebook,
Info on Baby... A lady brought the baby boy to safety, they are on their way to pick him up now ! Will update once he is safely in his parents arms too... Baby Boy is well !!! He is back with his family!! Thank you Lord !! with such a horrible night it is such a miracle that through all the sharing on Facebook he was found ! Thank you to everyone who prayed & shared the posts & picture !!
It's incredible. Even though they're facing an enormous tragedy, people still find a way to make miracles happen -- even if just by sharing posts on Facebook. My thoughts are with the boy and his family as well as the people and families harmed in the Nice terror attack.
Citations: French Mother Reunited with Her Missing Baby Thanks to Facebook Hours Following Nice Terror Attack (PEOPLE)