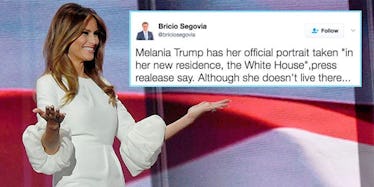 Everyone's Roasting Melania Trump's Gorgeous New White House Portrait
REX/Shutterstock
According to Melania Trump's newly-unveiled portrait, the White House is her "new residence," and people are confused.
The professional photo of the FLOTUS was released on the White House's official website on Monday and accompanies her biography on her Administration page.
Don't get me wrong -- it's a great portrait. I will admit she looks lovely.
However, people are completely roasting her for a small detail found in the picture's original release statement.
It's been reported the backdrop of the photo was officially referred to as Melania Trump's "new residence," even though she doesn't even live at the White House yet.
In case you haven't already heard, Melania has been residing in New York City with her son, Barron, while he finishes school.
They'll be in DC soon, though, because both Melania and Barron aim to be living in the White House when school is over this upcoming summer.
Since Melania's photo has been released, the public has been getting a kick out of the caption and trolling her because the only "Melania in the White House" is in portrait form.
"Know what would be beautiful? A picture of First Lady Melania Trump actually living in the WH and not wasting millions of taxpayer dollars."
"First official White House portrait of Melania Trump. Taken that one time she was at the White House."
People are trolling Melania because she doesn't live there yet.
Some folks are getting pissed she doesn't live in the White House yet...
...while others are making jokes about the FLOTUS still living in NYC.
Some, on the other hand, understand Melania's hesitation to live with Donald because "we can all identify with that."
Soon enough, Melania will be in the White House to fulfill her portrait's original description.
Until then, the only "Melania" in the White House will be a two-dimensional, highly-airbrushed photo of her.
Citations: The only Melania in the White House is this photograph (Mashable)