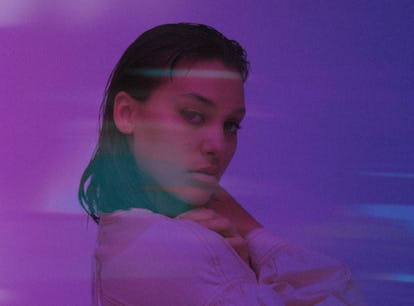 The Best Euphoria Filters To Make Your Pics Or Vids Sparkle And Glow
Yes, a glittery eye makeover is included.
Courtesy of Picsart
Class is in session at Euphoria High, aka East Highland High School, and the first lesson of the day is photo editing. Your favorite photo- and video-editing apps make it so easy to sport all the best makeup looks and lighting effects with Euphoria-inspired filters, so you can live out all your main character fantasies. But before you can graduate from the fictional school, you'll need to master these Euphoria filters for photos, TikTok, Instagram, and Snapchat.
Everyone knows there are two key elements that make up the Euphoria aesthetic: neon lighting (specifically the iconic blend of blue and pink), and a glittery, shiny, all-out makeup look. Oh, and don't forget to add a little bit of blurriness, too. Luckily, you don't need to be a photo editing expert to get the look, because Instagram, TikTok, Snapchat, and Picsart have added the perfect filters, lenses, and effects you'll need to pass the Euphoria High vibe check. Here's how you can use each of the filters for yourself, so you can spend less time precisely placing gems on your eyelids — and more time picking out a seriously eye-catching outfit.
Once you get the hang of these filters, you can always search for more Euphoria filters on TikTok, IG, and Snap to keep the glow going. Whether you're looking to enroll at East Highland High School or just want some of that good-good lighting, these Euphoria-themed filters are not to be missed.