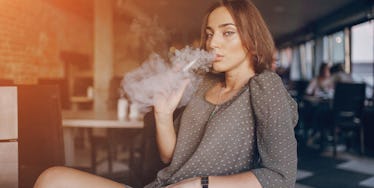 There's Actually An E-Cigarette Flavor That's Worse For You Than All The Others
Shutterstock
If you're trying to do yourself a solid by using e-cigarettes to quit smoking, kudos! You should be proud.
But, I've got some news that may come as a bummer to you — especially if you're fond of fruit.
The strawberry e-cigarette is the worst that you can inhale out of all the flavors, science says.
I wish I was blowin' smoke, but it's true.
According to Metro, researchers at Roswell Park Cancer Institute performed a test that exposed the chemicals of different e-cig flavors to bronchial cells to examine their damage.
To our surprise, the strawberry flavor damaged the most cells out of all of the flavors tested, which included coffee, piña colada, menthol and even tobacco.
Weird, right?
Maciej Goniewicz, lead researcher at the institute, talked about the harm that the favors could bring to our health. He said,
Although many of the flavorings used in e-cigarette liquids have been certified as safe for eating, little is known about their effects when heated and inhaled in e-cigarettes.
The team even admitted that smoking these e-cig flavors out of high-voltage devices is even more harmful than smoking out of lower-powered ones.
Eek. Maybe you should just quit the whole "cigarette" thing, fake or not, and stay away from the strawberry flavor, regardless of how sweet it tastes.
Citations: Metro, Roswell Park