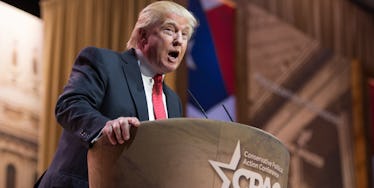 Donald Trump's Lawyer Responds After Saying Marital Rape Isn't A Thing
Getty Images
Donald Trump's lawyer recently claimed it is legally impossible to rape one's spouse.
The 1993 book "Lost Tycoon: The Many Lives of Donald J. Trump" revealed the Republican presidential hopeful allegedly assaulted his ex-wife, Ivana Trump.
In the book, author and former Newsweek reporter Harry Hurt III wrote about an occurrence in 1989 when Trump restrained Ivana's arms and pulled out clumps of her hair before ripping off her clothes.
In describing the alleged incident, Hurt wrote,
Then he jams his penis inside her for the first time in more than sixteen months. Ivana is terrified… It is a violent assault. According to versions she repeats to some of her closest confidantes, 'he raped me.'
On Monday, Michael Cohen, who serves as special counsel at The Trump Organization, told The Daily Beast when Ivana said she was raped, she only meant "emotionally."
Of Ivana's remarks, he said,
She was not referring to it [as] a criminal matter, and not in its literal sense, though there's many literal senses to the word.
He added,
You cannot rape your spouse. And there's very clear case law.
Cohen would have been right over three decades ago, but in 1984, New York's marital rape exemption law was abolished by its highest court after being declared unconstitutional.
It appears Cohen then threatened a Daily Beast reporter in an attempt to prevent the alleged rape story from being published.
He said,
I will make sure that you and I meet one day while we're in the courthouse. And I will take you for every penny you still don't have. And I will come after your Daily Beast and everybody else that you possibly know. So I'm warning you, tread very f*cking lightly, because what I'm going to do to you is going to be f*cking disgusting. You understand me?
According to Mashable, Cohen released a statement earlier today apologizing for a rape comment, although it's not clear which one.
He said,
I want to clarify a statement I made to The Daily Beast. As an attorney, husband and father there are many injustices that offend me but nothing more than charges of rape or racism. They hit me at my core. Rarely am I surprised by the press, but the gall of this particular reporter to make such a reprehensible and false allegation against Mr. Trump truly stunned me. In my moment of shock and anger, I made an inarticulate comment -- which I do not believe -- and which I apologize for entirely.
This morning, Ivana Trump told CNN the "Lost Tycoon" rape section is "totally without merit" and her ex-husband "would make a great president."
The Daily Beast also notes the first page of "Lost Tycoon" contains a statement from Ivana Trump saying while she felt "violated" by Donald Trump, she did not want her "words to be interpreted in a literal or criminal sense."
Citations: Ex-Wife Donald Trump Made Me Feel Violated During Sex (The Daily Beast), Donald Trumps lawyer apologizes for saying you cant rape your spouse (Mashable)