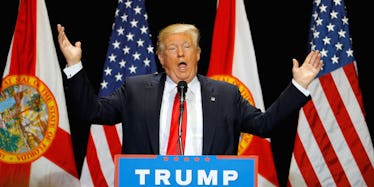 This Is Why Donald Trump Is Wrong About Islam And The Orlando Shooting
REUTERS
Donald Trump did exactly what you would expect him to do after a national tragedy: He took to Twitter to mention how right he was.
After the shooting in Orlando at a gay nightclub, Pulse, by a man who reportedly swore allegiance to the leader of ISIS, Trump sent multiple tweets. Surprisingly, the first tweet expressed his condolences for the victims and their families and asked when "this," presumably mass shootings and gun violence, will stop.
But, Trump couldn't leave it there and instead seized the opportunity to claim how right he was about Islam, criticize President Obama's attitude toward so-called "radical Islamic terrorism" and supply a sourceless piece of information about the shooter.
I can tell you Obama didn't mention radical Islamic terrorism in his speech because he was focused on the victims and their pain, not how a tragedy proves him correct on some issue.
But, as is often the case with Donald Trump, especially his tweets, he's wrong about Islam and its role in the Orlando shooting. Also, his final tweet about the killer shouting Allahu akbar is, as of this moment, completely unfounded.
Islam, as it is practiced by millions of Muslims, didn't make the shooter do what he did because there are so many devout, practicing Muslims who don't commit acts of violence and, in fact, discourage them.
You don't need to look any further than the following two posts on social media to see evidence there are so many Muslims who abhor terror and violence.
The Council on American-Islamic Relations released a statement condemning the Orlando shooting and encouraging Muslims to donate blood.
In the statement, CAIR-Florida's Orlando Regional Coordinator Rasha Mubarak said,
We condemn this monstrous attack and offer our heartfelt condolences to the families and loved ones of all those killed or injured. The Muslim community joins our fellow Americans in repudiating anyone or any group that would claim to justify or excuse such an appalling act of violence.
In a post on Facebook, the Islamic Center of Fort Pierce, which according to CBS News is the shooter's hometown mosque, also condemned the attack with a quote from the Quran and encouraged people to donate blood by listing a number of donation centers around Florida.
In an earlier Facebook post, the Islamic center also directly condemned the Orlando shooting and borrowed the strong language from CAIR, repudiating anyone who would commit such violent acts.
There's so much more to Islam than so-called radical Islamic terrorism, and one should never blame or re-cast an entire group based on the actions of an extreme minority. I know it, Obama knows it and hopefully you will recognize it, too.
Citations: Omar Mateen, Terrorist Who Attacked Orlando Gay Club, Had Been Investigated by FBI (The Daily Beast), Who is suspected Orlando gunman Omar Mateen? (CBS News)